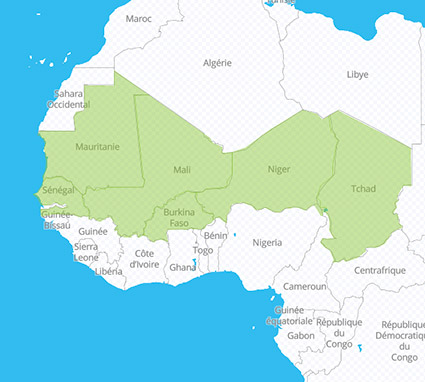 Goals
To provide the populations of the Greater Sahel region with reliable, accessible and attractive news, to help them understand sustainable development and become involved in its implementation.
CFI's objective is to entrench local skills in the production and dissemination of attractive content and to support specialisation in sustainable development issues.
Presentation
In the Greater Sahel region, few local media outlets produce news that is able to raise awareness of sustainable development issues and solutions among their audiences. However, they play a crucial role when it comes to informing the population and, thereby, contributing to changes in behaviour.
In partnership with France Médias Monde, CFI is implementing the Afri'Kibaaru* project to support the production and dissemination of news related to sustainable development in Africa, in several local languages, and the training of journalists in covering these issues.
Over a period of 42 months, Afri'Kibaaru will, through the media, raise awareness among the populations of six countries of the Greater Sahel region on issues related to the climate, gender, health and education. This will contribute to increasing their participation in public debate.
*"Kibaaru" means "news" in several African languages involved in the project
Project beneficiaries
Journalists from 48 media outlets, particularly from public and private radio stations in Burkina Faso, Chad, Mali, Mauritania, Niger and Senegal.
Journalists from RFI's local partner media outlets in this region.
Influencers, bloggers and members of civil society organisations.
Actions
The production of content in local languages by and for the people of the Greater Sahel region
This part of the project is being implemented by RFI, with a budget of €11.5 million.
The broadcasting, by RFI, of reliable and verified news in Fula and Mandinka.
The broadcasting, by RFI, of diversified content for the promotion of sustainable development goals (SDGs) in Fula, Mandinka and Hausa.
Interventions by experts speaking in local languages and the organisation of balanced debates.
On-air promotion of local sustainable development initiatives.
The establishment and training of a network of community radio journalists who will, simultaneously, act as local correspondents for larger media outlets in the project target area.
Making the magazine programmes produced available to community radio stations.
The creation of channels for the dissemination of news and for interaction via social media in the three languages. 
Afri'Kibaaru: 3 questions for Thierry Vallat, Chairman and Managing Director of CFI
January 18, 2021
Training and enhancing the skills of local journalists and media outlets
This part of the project is being implemented by CFI, with a budget of €3.5 million.
Training for trainers.
Training in media outlet management, the basics of journalism and fact-checking.
On-site coaching (adapted to the specific needs of each media outlet).
Training in the development of an editorial strategy and on the interactivity and attractiveness of content produced for radio and the internet.
Support, design and production of content specialising in issues and formats adapted to the SDGs.
Afri'Kibaaru call for applications
December 18, 2020
Media and SDGs: should the media promote journalism that speaks out?
August 13, 2021
On the agenda for the return of Afri'Kibaaru, six journalist training sessions in the Greater Sahel region
October 8, 2021