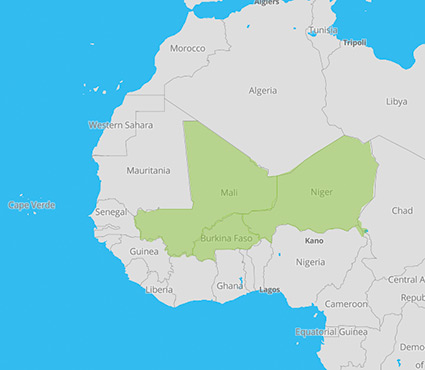 Goals
To provide reliable news to young men and women from the Sahel region, and make it possible for them to express their opinions, take part in public debates and contribute to public life in their respective countries, through the media.
Presentation
In recent years, the Sahel region has experienced a series of multifaceted, overlapping and worsening crises. One of the factors behind this fragility is the sense of neglect, injustice and marginalisation felt by part of the Sahel's youth, with the under-30s representing about 65% of the population.
This crisis, which is sweeping across the entire Sahel-Saharan belt, cannotbe resolved without making young people feel more included in social and political circles. In this respect, the media have an important role to play by offering young people forums for expressing their opinions and promoting dialogue between citizens, civil society representatives and the authorities.
Through the media, the MediaSahel project is helping to increase youth inclusion, foster stabilisation and establish democracy in Burkina Faso, Mali and Niger. A scheme for supporting production has been planned to run during the 48-month-long project. In addition to nationwide initiatives, a regional dimension will make it easier to broadcast news and promote dialogue between those three countries, with the focus being placed on shared problems and solutions, and content being offered in local languages.
Verbatim
"Conscious as we are that the media are essential to improving understanding of a complex environment and to initiating a more inclusive and more balanced public debate, we are delighted to be teaming up with CFI to work with the young men and women of Burkina Faso, Mali and Niger to produce reliable and independent news that is both focused on their interests and sensitive to gender."
Actions
Strengthening the capabilities of the media
> Encouraging young people to take part in interactive shows and get involved in the production of content;
> Training local trainers in journalism;
> Strengthening the skills of media professionals: the fundamentals of professional journalism, journalism that is sensitive to conflict and gender, interactive shows engaging young people, discussion shows, encouraging representatives of the State and of civil society organisations to take part in discussion shows and raising their awareness;
> Aiding the development of media outlets or new formats created by young people;
> Providing training courses on new interactive formats for the internet;
> Supporting media management teams;
> Raising the awareness of the media, regulatory bodies and civil society organisations on the issues relating to fake news and the verification of facts.
Getting to know the Nigerien youth better... in order to better support them!
March 1, 2019
How can we improve youth inclusion with the help of the media?
April 15, 2019
CFI and the French Development Agency (AFD) launch a project to support youth in the Sahel
April 25, 2019
Ten new recruits for MédiaSahel
December 1, 2019
MediaSahel, results 2019
March 27, 2020
MediaSahel broadcasts special content on Covid-19
May 11, 2020
The "Pas2Quartier" programme expands across Africa
February 25, 2021
Improved monitoring and evaluation within MediaSahel project team
February 26, 2021
Consultation workshops in Bamako and Niamey for media discussions
March 1, 2021
Three youth broadcasting projects in the Sahel region
March 1, 2021
"Identifying the cornerstones of the profession": training in the basic principles of journalism in Sahel
March 2, 2021
Gender issues for MédiaSahel's radio partners
June 24, 2021
Gender and conflict on the agenda at MediaSahel's partner radio stations
October 8, 2021
Management training for radio station managers in the Sahel
October 10, 2021
With reusable bottles and a cooler for training sessions: MediaSahel is taking a more environmentally-friendly approach
November 2, 2021
Supporting the production of content created by and for young people
> The production of news and debate programmes aimed at the young, focusing on both national and international issues, in the local languages of the priority areas and in cross-border languages (unifying languages);
> The production of content that is both entertaining and educational, focusing on international issues, in the main languages and in cross-border languages;
> Supporting the local production of interactive content and discussion shows, in French and/or in local languages;
> National competitions on new interactive and discussion formats, with production grants being awarded to three winners over the course of a year.
RFI launches two magazine programmes in Fula and Mandingo
April 6, 2019
"So, what do you think?" A new programme for the young people of Africa
June 30, 2019
Creating a new forum for dialogue between media and youth in Burkina Faso
July 19, 2019
New offerings for young people on the Malian and Nigerien airwaves
July 29, 2019
the MediaSahel project presented at the "Paris Peace Forum 2019"
November 7, 2019
Two days of public broadcasts with RFI in Niamey
November 10, 2019
In Burkina Faso, radio managers and young people discuss MédiaSahel
December 30, 2019
Raising media awareness among Burkina Faso's young people through the press cartoon
December 31, 2019
After Niamey, RFI sets up in Bamako to talk to young people
February 29, 2020
Three studies to better understand youth-media relations
March 26, 2020
Tous à la Fada and Tous au Grin: two programmes that speak to young
March 26, 2020
'Jeunes Wakat' programme becomes more interactive
March 28, 2020
MédiaSahel rolls out a gender action plan and monitoring/assessment mechanism
April 4, 2020
Combating COVID-19 by drawing
April 28, 2020
Young people, key allies in preventing
 COVID-19 in Burkina Faso
May 15, 2020
Regional, legislative and presidential elections in Burkina Faso and Niger: videos to encourage good behaviour during election periods
November 24, 2020
MédiaSahel launches its cycle of training courses on interactive programmes for its 72 partner radio stations
February 12, 2021
She was far more than just a man. She was an aspiring woman
February 26, 2021
Jeunes Wakat… live and in public
February 26, 2021
Interactive programmes for young people
March 1, 2021
Burkina Faso's young people include MediaSahel in their action plan
March 1, 2021
Thanks to MédiaSahel, RFI relocates to Ouagadougou to offer young people the opportunity to take the microphone
April 5, 2021
In Niger, young people work alongside journalists during radio interactivity training
April 16, 2021
Three editorial projects inspired by "Pas2Quartier" will soon see the light of day in Burkina Faso, Mali and Niger
June 9, 2021
"Interactivity" training cycle in Burkina Faso and Mali: assessment in figures
June 28, 2021
MediaSahel: young people and partner radio stations lead discussions on Dianké's themes
October 16, 2021
"Angata... mi casa, su casa": a new online meeting that offers a different way to discover Mali
October 17, 2021
Salissou Hassane Latifa: Nigerien and humanitarian whizz
October 21, 2021