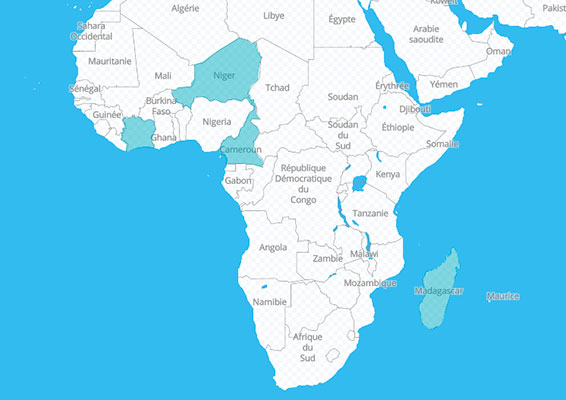 Presentation
In French speaking Africa, open data are a key source of information that journalists and media outlets need to harness in order to cover gender-related stories and educate people about gender inequality.
However, not all of these data and statistics, which are available to government bodies, are broken down by gender and they do not provide sufficient information for gender-related issues as a result. The expertise required to retrieve, analyse and visualise these data also calls for specific skills and is hard to find.
Implemented with support provided by the pan-African network "Open Data pour Elles [Open Data for Women]", MediaLab for Women provides journalists with training on how to manage gender-related open data and with support to investigate gender inequality in French speaking Africa. This project is making use of innovative content to raise awareness of gender and open data issues among journalists and civil populations in four countries.
Verbatim
An experience to be reissued absolutely. An innovative human and professional adventure that allowed journalists with diametrically opposed editorial lines to exchange on topics of general interest.
Project beneficiaries
1 enhanced network consisting of 8 data journalism trainers
24 journalists from the 4 countries involved in the project, and the media outlets they work for
Open Data pour Elles partner network
CSOs committed to gender equality and focused on gender-related issues as well as open data, sound governance, and accountability
Actions
Providing support for the creation and dissemination of investigations into gender inequality
Call for submissions from 24 journalists followed by the selection of 8 investigations
Funding and production of these 8 investigations, plus support
Dissemination of the investigations by partner journalists and media outlets
- Evaluation of the investigations by CFI, France Médias Monde and the Open Data pour Elles network
Related news
MédiaLab pour Elles [MediaLab for Women]: 24 journalists selected
March 2, 2021
Over 250 people replied to the invitation for applications to take part in training courses on data-driven journalism and produce innovative...
First MédiaLab pour Elles workshops begin
March 19, 2021
The first "data journalism and gender investigation" training sessions were held in Douala and Abidjan in early March 2020. We look back at the...
Behind the scenes of Jeunes Wakat pour Elles (Youth Time for Women)
April 17, 2023
Since 2019, as part of the MediaSahel project, the Union National de l'Audiovisuel Libre du Faso (UNALFA) (National Union of Free Audiovisual...
Open Data pour Elles network support
Development, mobilisation and communication workshops for the network's members
Participation and integration of Open Data pour Elles into regional French speaking open data networks/li>
Related news
"MediaLab pour Elles" continues its journey in Antananarivo and Niamey
April 1, 2021
New "data journalism and gender investigation" training sessions were held in Madagascar and Niger from 22 to 26 March 2021. A look back at a...
Four investigations into gender inequality published in Madagascar and Cameroon
January 10, 2022
When data-driven journalism is used to combat gender inequality, this produces fascinating investigations that challenge existing ideas. A look...
Four new investigations into gender inequality published in Niger and Côte d'Ivoire
March 28, 2022
Following on from an initial series of publications in Cameroon and Madagascar in late December 2021, the investigations launched as part of the...
Ghislaine Deudjui: the numbers speak for themselves
February 6, 2023
Ghislaine Deudjui, a 31-year-old Cameroonian journalist, specialises in economic news, health and data. In the bustling economic capital, Douala...
Enhancing a network of data journalism trainers with respect to gender-related issues and training journalists
Establishing a network of trainers from previous CFI projects (Open Data Media 1 & 2)
Developing training and support materials and any refresher sessions if necessary
Selecting 24 journalists from the 4 countries following a call for applications
Basic training in investigations and open data
- Advanced training in open data and investigative file preparation
Related news
Data journalism: how can gender data be used?
September 7, 2021
Four training sessions on "data journalism and gender investigation" were held in Abidjan, Antananarivo, Douala and Niamey in July 2021. A...
Immersion in two collaborative gender surveys in Cameroon
February 25, 2022
Successful press lunch in Douala to present two surveys on gender inequality in Cameroon. Authorities, media outlets and representatives from...
Mariam Ouédraogo, spokesperson for the "voiceless"
January 23, 2023
Mariam Ouédraogo comes from the Nord region of Burkina Faso, an area afflicted by insecurity, and is a journalist by profession. Having won the...