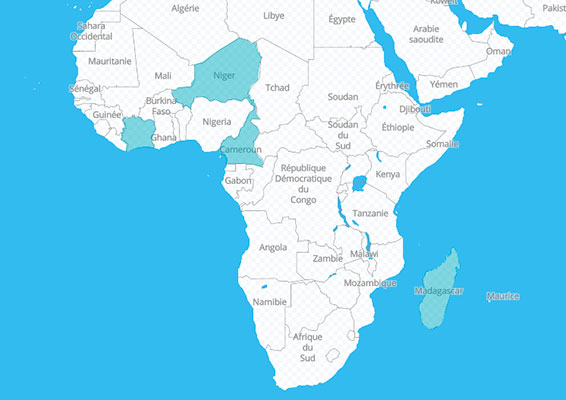 Presentation
In French speaking Africa, open data are a key source of information that journalists and media outlets need to harness in order to cover gender-related stories and educate people about gender inequality.
However, not all of these data and statistics, which are available to government bodies, are broken down by gender and they do not provide sufficient information for gender-related issues as a result. The expertise required to retrieve, analyse and visualise these data also calls for specific skills and is hard to find.
Implemented with support provided by the pan-African network "Open Data pour Elles [Open Data for Women]", MediaLab for Women provides journalists with training on how to manage gender-related open data and with support to investigate gender inequality in French speaking Africa. This project is making use of innovative content to raise awareness of gender and open data issues among journalists and civil populations in four countries.
Project beneficiaries
1 enhanced network consisting of 8 data journalism trainers
24 journalists from the 4 countries involved in the project, and the media outlets they work for
Open Data pour Elles partner network
CSOs committed to gender equality and focused on gender-related issues as well as open data, sound governance, and accountability
Actions
Enhancing a network of data journalism trainers with respect to gender-related issues and training journalists
Establishing a network of trainers from previous CFI projects (Open Data Media 1 & 2)
Developing training and support materials and any refresher sessions if necessary
Selecting 24 journalists from the 4 countries following a call for applications
Basic training in investigations and open data
- Advanced training in open data and investigative file preparation
Data journalism: how can gender data be used?
September 7, 2021
Providing support for the creation and dissemination of investigations into gender inequality
Call for submissions from 24 journalists followed by the selection of 8 investigations
Funding and production of these 8 investigations, plus support
Dissemination of the investigations by partner journalists and media outlets
- Evaluation of the investigations by CFI, France Médias Monde and the Open Data pour Elles network
MédiaLab pour Elles [MediaLab for Women]: 24 journalists selected
March 2, 2021
First MédiaLab pour Elles workshops begin
March 19, 2021
Open Data pour Elles network support
Development, mobilisation and communication workshops for the network's members
Participation and integration of Open Data pour Elles into regional French speaking open data networks/li>
"MediaLab pour Elles" continues its journey in Antananarivo and Niamey
April 1, 2021
Four investigations into gender inequality published in Madagascar and Cameroon
January 10, 2022