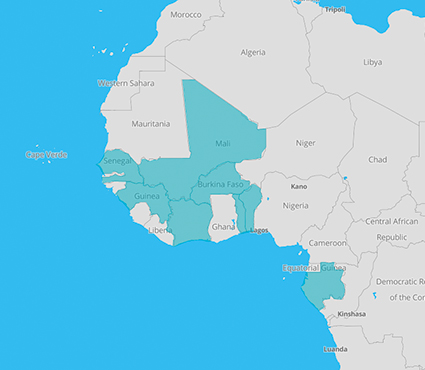 Presentation
For the youth of Africa, social networks, mobile media and digital applications have become tools to use in citizen action projects. In Africa, "hackathons" and other competitions for innovation are becoming increasingly popular and bring together developers, bloggers, community managers and journalists to work on projects of public interest, aimed at increasing transparency and strengthening democratic dialogue.
As access to the Internet becomes more widespread, in particular via mobile devices, the relationship between African citizens and their public administrations is also undergoing a transformation. Some countries have already taken the first steps towards opening up public information (open data).
The growing demand for citizen oversight of public actions and the explosion in online media therefore represent an unprecedented opportunity for young committed Africans to innovate in the field of citizen action and tackle the challenges facing their countries. In order for them to make the most of their role as agents of change, the Citizen Connections project is aimed at identifying these young people with high potential and supporting them as they develop and continue their projects on a more professional basis.
Verbatim
"Citizen Connections allows me to plan my project into the future, to move towards its realization. It becomes bigger, more ambitious."
Project beneficiaries
15 young Africans with innovative ideas relating to citizenship
Actions
Online activities and final selection
The project will begin with a 6-week online session for 30 participants selected following the call for applications. These online activities will in particular tackle issues relating to project positioning, collaboration, pitching and mobilisation.

This first stage will allow the Citizen Connections trainers to assess each participant's motivations and their ability to work as part of a team, in order to help them to select the 15 people who will continue with the programme.

Related news
Citizen Connections: be a part of change!
August 3, 2016
CFI's "Citizen Connections" project is looking for young connected citizens active in the defence and promotion of democratic values in Africa.
Citizen Connections: the selected applicants
September 20, 2016
In August, we called on young connected citizens active in the defence and promotion of democratic values in Africa to apply for a place in our...
Citizen Connections: the 15 Winners
December 13, 2016
After six weeks of online work carried out by the 30 participants selected following the call for applications to the Citizen Connections project...
Intensive inaugural session in Paris
During a stay in Paris, 15 participants will continue the training. They will benefit from topic-based workshops, led by experts, relating to the democratic, digital, community, media and business challenges facing citizen projects.
They will also learn about different methodologies and project management tools.
Related news
Citizen Connections comes to Paris
February 22, 2017
Fifteen young people from nine different French-speaking countries in Africa, all with ideas and digital projects for citizen-led action, are...
Bush camps near Dakar and Abidjan
On these bush camps, the participants will be taken to a rural area with no Internet access for two days, in order to find – together – concrete solutions to the problems identified in a basic community and obtain user feedback in relation to their individual projects, helping them to optimise their approach.
Related news
5 key lessons learned from a social initiative in a rural area
April 22, 2017
On 13 and 14 April 2017, as part of the Connexions Citoyennes programme, 15 people with experience in project managing social initiatives, from...
How can we involve citizens from remote areas in a digital project?
July 29, 2017
Did you know that the majority of citizens who work for the well-being of their community do not realise the importance of their action in terms...
Online and community activities
Alongside the high-intensity Paris kick-starter meeting and the bush camps, online activity sessions will also be provided. The participants will be encouraged to discuss ideas amongst themselves, and with the trainers, via video chats throughout the project.
Final seminar in Paris
The final seminar is aimed at giving the projects a final boost. Over the course of a 4-day "hackathon", the participants will be given personalised support according to their needs and will have the opportunity to receive targeted advice from a team of expert mentors. The last day will be set aside for a competition.
A panel will assess the pitches of the 15 participants and award prizes to the most convincing projects.
Related news
Citizen Connections: last meeting in Paris
September 18, 2017
In the week running from 18 to 22 September 2017, the 15 participants from eight countries in French-speaking Africa will be in Paris to give...
Mon Élu: strengthening dialogue between citizens and elected officials by using new technologies
September 19, 2017
Here is the personal account of Tidiani Togola (Mali), one of the participants in the Citizen Connections project.
Limegbié: allowing women living in rural areas to have their say
September 20, 2017
Here is the personal account of Cyrielle Raingou (Cameroon), one of the participants in the Citizen Connections project.
Les Villageois 2.0: highlighting the benefits and dangers of information technologies
September 21, 2017
Here is the personal account of Sally Bilaly Sow (Guinea), one of the participants in the Citizen Connections project.
Elle Citoyenne: making the voice of African citizens heard
June 26, 2018
One day in my media organisation is a series of weekly reports illustrating the daily lives of people who work in media organisations across...