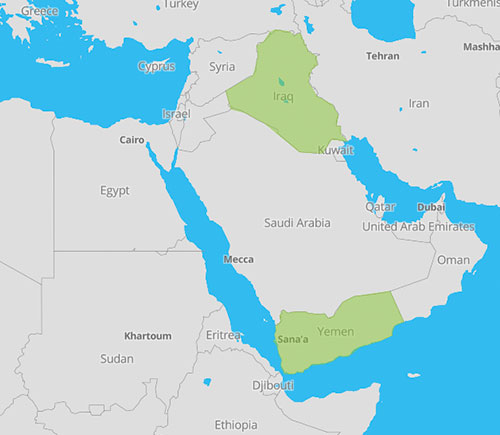 Presentation
Yemen and Iraq are currently facing severe security instability, which has significantly affected the circumstances of the population, and of women in particular, who are increasingly marginalised and exposed to new threats. Moreover, journalism as practised in both countries remains a male-dominated environment. This is reflected not only in the absence of women in decision-making positions, but also in how information is covered by the media.
The Makanati project (which means "my place" in Arabic) promotes greater participation of women in Iraqi and Yemeni society and a better understanding of their concerns by the population, particularly through the production and dissemination of content about them. It also seeks to raise awareness among journalists and future journalists regarding gender equality and women's rights.

Finally, it contributes to improving the professional skills of female journalists in order to promote their access to decision-making positions.
Actions
Awareness of the importance of women's rights and gender equality
Organisation of debates and a seminar to raise awareness of these issues with civil society stakeholders.
Training courses dedicated to these issues, for female journalism students and journalists, in order to develop a common methodology of journalistic coverage.
Introduction of advocacy initiatives lobbying the authorities in Iraq.
CFI launches the Makanati project aimed at strengthening the participation of women in the Iraqi and Yemeni media
September 30, 2020
Improving the professional skills of female journalists and students in Iraq and Yemen
Completion of an inventory of the positions held by women, with researchers based in both countries.
Strengthening professional networks at national and regional level.
Training courses on professional and leadership abilities.
Wedad Albadwi, founder of the Cultural Media Centre in Sana'a
April 13, 2021
Yemeni journalists receive training to produce content 
to promote women's rights
November 15, 2021
Support for the production of media content covering the challenges faced by women, women's rights issues and gender equality
Launch of a specific radio programme/broadcast or creation of web media managed by female journalists who are beneficiaries of the project.
Support for the production of media content focusing on these issues.
New programmes dedicated to women on Yemeni airwaves
November 27, 2020
Launch of the makanati.net platform in Iraq
February 17, 2021
Launch of the hodaj.net platform in Yemen
February 18, 2021
Changing the way women are perceived in Iraq and Yemen
March 11, 2021