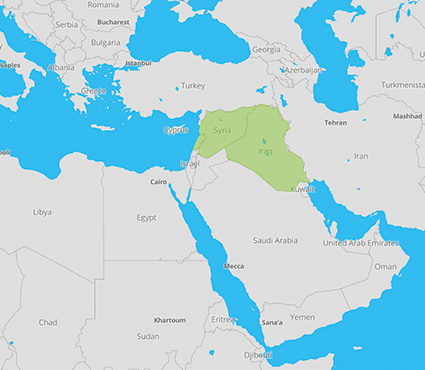 Presentation
As a result of the ongoing conflicts in Syria and Iraq and the atrocities being committed against civilians, many people have been forced to flee their homes and move to new areas, thereby changing the balance of the host communities and sometimes creating ethnic and religious tension.
In this crisis situation, the media play a key role both in influencing citizens' behaviour and in resolving conflicts, but can also be used to exacerbate any inter-community disputes.
Launched by CFI and the SKeyes Center for Media and Cultural Freedom (run by the Samir Kassir Foundation), the 'Naseej' project – 'Naseej' meaning 'weaving' in Arabic – calls on the media to restore and maintain a balanced and peaceful debate focusing on these issues.
It is being funded by the Crisis and Support Centre (CDCS) of the French Ministry of Europe and Foreign Affairs.
Verbatim
"In the context of everyday life, we don't think about the repercussions of our work on society. Sharing experiences is vital and this study enabled us to become aware of the stumbling blocks that are to be avoided if we don't want to add fuel to the fire."
Project beneficiaries
Chief editors and influential journalists in Lebanon, Syria and Ira.
Actions
Appraisal of how diversity-related issues are currently being dealt with in the Lebanese, Iraqi and Syrian media
This appraisal will consist of 3 parts:
a quantitative part, cataloguing the articles and reports dealing directly or indirectly with this subject, analysing their size and frequency, and ranking the various media groups in terms of how often they focus on the subject;
a qualitative part, examining the terminology, semantic field, cultural references and stereotypes, and assessing whether – in the same media outlet – the subject is dealt with differently depending on the pages and departments;
a qualitative study of how the public sees this subject being dealt with in the media, by holding focus groups in which the different target groups give their opinions on what is published and broadcast.
Launch of the Naseej Prize
July 18, 2017
Workshops and meetings with chief editors and influential journalists in the target countries
These workshops and meetings will aim to:
shed light on their editorial policy – if one exists – regarding this subject;
share the main recommendations drawn from the appraisal;
identify key people capable of spreading these recommendations.
This appraisal and these meetings and workshops will make it possible for a practical glossary to be drawn up for presenting non-discriminatory terminology and allowing certain terms to be better understood. This glossary will be sent to journalists in the region and also to the main journalism schools.
In addition, a prize will be awarded to one or more published/broadcast articles or reports focusing on issues relating to diversity and contributing to the values of inclusion, openness and dialogue.
Diversity in the Iraqi media?
September 1, 2017
Media perspectives on diversity in Iraq, Lebanon and Syria
November 19, 2017
The 2017 Naseej Prize – two winners
November 24, 2017
Who will fight for justice for the Yazidi women on Mount Sinjar?
January 20, 2018
The future of Mosul, a city stripped of its diversity
January 20, 2018
Perspectives on cultural and religious diversity in Iraq
January 22, 2018
Perspectives on cultural and religious diversity in Syria
January 22, 2018
Perspectives on cultural and religious diversity in Lebanon
January 22, 2018
The post-Daesh fate of Iraqi minorities
January 29, 2018
Lebanon, somewhere between citizenship and sectarianism
February 5, 2018
Christians of the Middle East, persecutions upon persecutions
February 12, 2018
Iraq is emptying of its Christians: the story of a catastrophe
February 19, 2018
A day with the team of voluntary aid workers helping displaced persons
February 22, 2018
Stories of coexistence between two women, one Muslim the other Christian
March 5, 2018
The impossible situation of Iraqi Kakai
March 12, 2018
How to be Kurdish and work in the Arab culture and language
March 19, 2018