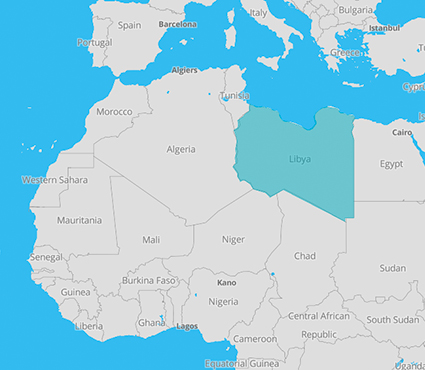 Goals
To promote a common framework for discussion for journalists in relation to ethical challenges during a time of crisis.
To make journalists aware of the dangers associated with the accumulation of journalistic and political functions, which are even greater in the context of a crisis.
To encourage discussion in relation to the formation and structuring of plural and independent media coverage.
Presentation
Since 2011, Libya has fallen into chaos, with armed militia and civil war. Since 2015, two rival authorities have been vying for power, one based in Tripoli, the other in exile in Tobruk. In this extremely fragile political and economic situation, the media in Libya are struggling to safeguard the pluralism of information in their country.
Faced with threats to their physical safety and repressive laws, many journalists have had to go into exile in Tunisia, Jordan, Egypt or Turkey, where they try to carry on with their profession whilst preserving their independence.
In order to help maintain democratic debate in Libya, CFI in partnership with the Crisis and Support Centre of the Ministry for Europe and Foreign Affairs (MEAE), has launched "Hiwar: perspectives on journalism in Libya".
This project invites 15 Libyan journalists to participate in four discussion workshops focusing on their professional practices and the situation with regard to ethics and integrity.
Project beneficiaries
15 Libyan journalists from all kinds of media
Actions
Selection of 15 journalists, via CFI networks
from all kinds of media (radio, web, press, agencies, television).
Perspectives on journalism in Libya: ethics and integrity
February 23, 2017
Cycle of four 3-day workshops
in Tunis (Tunisia): both theory and practical sessions with case studies enabling the participants to compare practices, in relation to various subjects (ethics and integrity, journalism and political functions, being a journalist whilst in exile, the independent role of journalists, etc.).
Distance monitoring between the different sessions
in order to prepare practical cases for the next sessions and see how the beneficiaries develop.
Drafting of a feature article by the journalists
so as to raise awareness on the part of the public of the role and mission of journalists in Libyan society today, which will be published in their respective media and on social networking sites.
"I am a Libyan journalist": contrasting perspectives on journalism
November 16, 2021
Organisation of a round table discussion on World Press Freedom Day
on 3 May 2017, journalists from ILYM will team up with those involved in HIWAR to take part in a round table discussion relating to the freedom of the press during crisis situations.
I am a Libyan journalist: Mounir Almouhandes
July 7, 2017
I am a Libyan journalist: Sleiman Al Barouni
July 13, 2017
I am a Libyan journalist: Malak Beit Al Mal
July 22, 2017
I am a Libyan journalist: Houda Al Chaikhi
July 31, 2017
I am a Libyan journalist: Rizk Faraj Rizk
August 11, 2017
I am a Libyan journalist: Tarek Abed Al Salam Al Houni
August 18, 2017
I am a Libyan journalist: Khaled Ali Al Dib
August 25, 2017
I am a Libyan journalist: Sefyan Khalaf Allah
September 1, 2017
I am a Libyan journalist: Imad Hamed
September 8, 2017
I am a Libyan journalist: Ibrahim Mohamad Alhaji
September 15, 2017