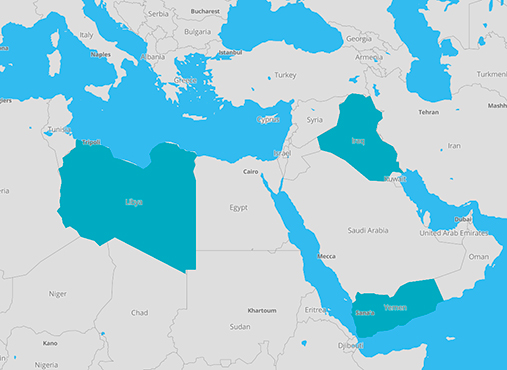 Goals
To encourage reflection amongst professionals concerning practices of use to journalists in carrying on their profession in a context of crisis, leading to the compilation of a vade-mecum.
To assist French public opinion in understanding these three crises.
To evaluate the actual needs and expectations of the media in these three countries with a view to devising a customised action plan for the post-crisis period.
Presentation
It had been hoped that many Arab countries would embrace democracy following the Arab Spring protest movements, but such a transition has gradually given way to situations of crisis and increased doubts over the new rulers installed following the elections. In the most fragile regions, such as Iraq, Libya and Yemen, the concepts of free speech and freedom of the press are often ridiculed and ignored. Physical threats and risks of coercion now form part of the day-to-day lives of journalists. Under such conditions, it is very difficult for them to lead the democratic debate that is needed to make their countries stable, and to contribute to national reconciliation.
However, the media have a vital role to play. The media landscapes of these countries have changed significantly in the past few years, with a greater awareness of the right to freedom of opinion and expression creating new challenges, which the media must now tackle head on.
The ILYM (Iraq Libya Yemen Media) project is offering Iraqi, Libyan and Yemeni journalists a series of meetings during which they will review their experience as journalists and how it is possible to respond to such contexts of crisis. Its objective is to analyse in depth the roles played and stances adopted by the media during the ongoing crises in these three countries, by bringing together news professionals and outside observers (French and international journalists and researchers).
During the various seminars, which will take place in Paris, these media professionals will have the opportunity to discuss their day-to-day difficulties, to share good practices and to take stock of the role they play in witnessing and making sense of these crises against the context of ongoing political instability.
The diversity of attendees and their approaches will allow ILYM to provide space for reflection for news professionals, enabling them to consider their own practices, and an analytical tool for identifying ways in which to contribute to democratic debate in countries in crisis.
Verbatim
ILYM has allowed us to understand how French journalists perceive the crises affecting our countries and how they also try to cover them despite all the obstacles encountered.
Project beneficiaries
Twelve experienced Iraqi, Libyan and Yemeni journalists working for Arabic-language general news media in their respective countries.
Actions
A one-day inaugural orientation meeting, at AFP's offices in Paris
bringing together the selected journalists and French guests (journalists, diplomats, researchers, students) with an interest in the situation of the media in Iraq, Libya and Yemen.
Related news
A better understanding of the media in Iraq, Libya and Yemen
November 10, 2015
To mark the launch of ILYM (Iraq Libya Yemen Media) at the offices of AFP on 9 November 2015, CFI looks at the current situation of the media in...
What role should the media play in countries in crisis?
November 10, 2015
Health crises, natural disasters or conflicts… more than ever, information becomes crucial in times of crisis.
The 12 Iraqi, Libyan and Yemeni journalists involved in the ILYM project
November 10, 2015
Between November 2015 and May 2016, 12 journalists from Iraq, Libya and Yemen will attend the 'ILYM' (Iraq Libya Yemen Media) series of four...
A series of four seminars for strategic reflection, over the course of two days
bringing the selected journalists together in Paris and involving shared reflection sessions and also exchanges of experiences and good practices.
Related news
Freedom of expression on the agenda at the second ILYM seminar
February 24, 2016
On 14 and 15 December 2015, Iraqi, Libyan and Yemeni journalists involved in the ILYM project met for a second reflection seminar at IReMMO*.
A programme of meetings with the French media
(including AFP, France 24, Le Monde, Mediapart, Radio France, etc.) and meetings with institutions (Foreign & International Development Ministry, National Assembly, etc.).
Establishing remote monitoring between the various sessions
provided by journalists and specialists, in particular from the Balkans and the Arab world.
Related news
ILYM: closing session in Paris
May 25, 2016
During the last ILYM seminar, which took place from 9 to 11 May 2016, the participants reviewed the project and talked to experts about the ways...