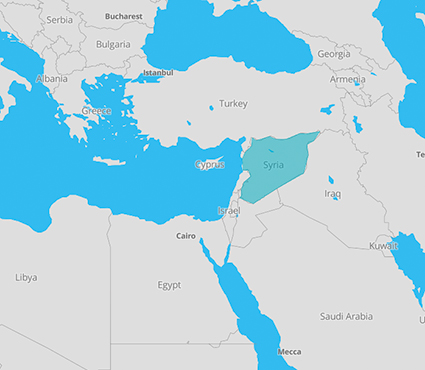 Goals
To assist the Syrian population in accessing objective news produced by Syrians
To strengthen the role of the Syrian media in the production and broadcasting of reliable, balanced news
To train journalists to produce high-quality news with a view to the transition to democracy
Presentation
Since the beginning of the Syrian uprising in March 2011, citizen journalists and bloggers have worked hard to report on the situation in the country. As the only witnesses in a territory where the international press is banned and where information is manipulated by the various parties involved in the conflict, these media are up against violent repression.
Despite their brave determination, these journalists struggle to deliver reliable, high-quality information. Many do not have basic journalism training and had, at the beginning of the crisis in 2011, limited technical resources to produce or disseminate content. The biggest problem they face is the difficulty in travelling around the country to verify their information and bypassing censorship (power cuts, Internet control, FM signals under surveillance).
As the conflict has become more entrenched and in the face of a bloody repression, the peace movement has given way to armed conflict and an accentuation of tensions between communities. More than ever, free, independent media who represent all minorities are the key to national cohesion.
To support such media as they take on this challenge so crucial for the future of their country, and to work towards a democratic transition, CFI and its partners are helping to develop the professional skills of new Syrian media through the "media incubators" project.
Selected from known networks, for their experience but also in the interests of representation of minorities, the journalists can thus produce and disseminate quality information, develop their structure, and contribute to the emergence of a democratic alternative.
Verbatim
"This is a space which is secure, free and open to citizen journalists, all these producers of information who risk their lives every day filming, documenting what is happening. We have installed radio and television studios. They can come here to produce, edit their videos and sell them to international agencies or work for their own media."
Project beneficiaries
"Citizen-journalists" without basic journalism credentials but who have, since the start of the conflict, acted as mouthpieces to provide information to the outside world
Radio presenters, videographers and film directors with knowledge of image and sound recording but lacking media experience
Independent journalists with experience in the areas of TV, radio and the written press
"Distributors" who, with scant means, strive to disseminate information
Special emphasis is placed on representation of all minority groups and inclusion of women.
Actions
Production of high-quality news
The project offers training sessions on the production of reliable, balanced news, ensuring the new media are aware of their role in building national cohesion.
Training and support focus on the following areas:

Physical security and cybersecurity
Psychological support
Ethical journalism
Support for the written press / online press / bloggers
Support for radio production
Support for video production
Death of a young journalist casts a shadow over the first training session within the Syrian Media Incubator
September 12, 2014
Radio Rozana Journalists Training at the Syrian Media Incubator
December 5, 2014
Syrian journalists mobilise for World Press Freedom Day
May 17, 2015
Syrian journalists trained in mobile-phone film-making
June 5, 2015
Expressions Syriennes: the Syrian media report in French about the day-to-day lives of the Syrian people
July 16, 2015
Dissemination of media production within the country
Since it is no longer possible to access traditional news communication networks within Syria (radio, TV or print), a media incubator has been set up in Gaziantep (Turkey), open to journalists, distributors and producers working for Syrian media.
Chosen for its easy accessibility from Aleppo, this is a place dedicated to reflection, training and exchanges. It also offers technical facilities (recording studio, computer equipment, cameras) and secure connections.
In parallel, the project aims to support the distribution of newspapers and radio broadcasting in Syria.
Watar: A Local Initiative for the Syrian Population
April 13, 2015
Making the Syrian media more secure
June 25, 2015
Syrian print media under discussion
November 2, 2015
Aleppo Media Center set to launch its radio station in northern Syria
December 18, 2015
About Yaman…, a Syrian short film
February 24, 2016
Structuring of media organisations in the Syrian audiovisual industry
To deal with the situation created by the crisis, the new Syrian media need to become structured and organised.
Three conferences – attended by around 30 to 40 professionals – are held on two main themes:

The role and status of the media in building national cohesion,
Structuring media organisations and networks.
Radio Rouh Journalists Training at the Syrian Media Incubator
February 16, 2015
Syrian radio stations share their experiences
September 2, 2015
5 international organizations mobilized for the independent Syrian medias
February 5, 2016
Final appraisal of the Syrian Media Incubator project
July 11, 2016
Lina Chawaf, the voice of a free Syria
February 22, 2021
A free Syrian radio station broadcasting from Paris
November 16, 2021
Hala Kodmani
November 16, 2021