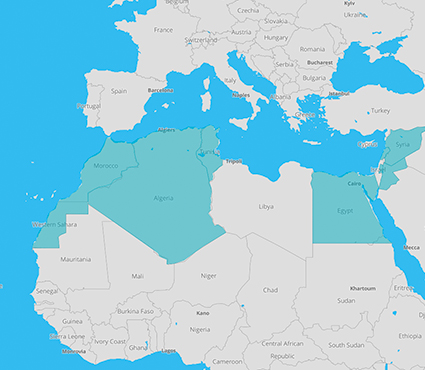 Goals
To support the establishment of democratic debate and contribute to the economic development of countries south of the Mediterranean by strengthening the media
To strengthen the online media and promote the emergence of structured professional organisations
Presentation
Following a surge in popularity during the Arab Spring, online media are profoundly changing people's relationship with the news. Beyond the technological aspect, they create a new dimension for expression based on interactivity and participation by the public, a forum for debate and dialogue.
In the face of growing demand from consumers, the content on offer has its limitations. Web activists are often self-taught and lack formal training in journalism, which can be detrimental to the quality of democratic debate while their impact on the population is growing. As for traditional media, who are poorly prepared for the transition to digital technology, they find themselves forced to adapt their content to new media and to move towards an offer outside their usual area of expertise.
Against this background, with stakeholders unable to afford the investment necessary for further development, CFI and its partners have launched EBTICAR-media, which aims to identify and provide financial support for the most innovative projects that give structure to this industry.
Open to online media and private traditional media, the EBTICAR (E-Booster for Technical and Innovative Contents in the Arab Region, or "innovation" in Arabic) programme provides support, through four distinct components, to projects involved in:
As regards the media individually: improving their content and their structure, both financial and organisational.
Collectively: strengthening their capacity to come together in professional organisations and share their experiences.
For more information about the ETBICAR-MEDIA project, visit http://www.4m.cfi.fr/index.php/fr/projet-ebticar-media-fr-ar.
Verbatim
"We have discovered the power of on-the-ground reporting: the camera becomes a tool which enables us to tell the world about our struggle every day. The support we have received has helped us enhance our professional skills, enabling us to report and raise awareness properly."
Project beneficiaries
Emerging online media in the Arab world
Private traditional media (radio, TV, print) seeking to develop a digital offering
Actions
Strengthen web journalism skills
Funding awarded under the EBTICAR programme, with the successful applicants being selected after a call for projects, prioritises projects that meet objective professionalisation criteria and aimed at:
Enhancing content: writing, sound and image
Ensuring security: communication, personal data, file transfer
Mastering interactive tools: crowdsourcing and social networks
Particular attention is given to projects that promote the transfer of skills through the involvement of online media professionals in training courses and student internships.
EBTICAR-Media: Applicants invited to Marseille
July 7, 2014
EBTICAR-Media : 2014 selected projects
July 15, 2014
EBTICAR-Média 2015: pre-selection of 22 projects
May 5, 2015
Ebticar-Media: the 8 award-winners
June 11, 2015
Define sustainable business models
Both emerging and private traditional media, who find themselves forced to make the transition to digital, have to give thought to the definition of an organisational model that complies with a strategic vision.
For this component of the programme, the projects deemed relevant relate to:

The definition of digital strategies to position themselves in the market, identify their target public, strengths and weaknesses
The editorial line: having a specific identity
Website user-friendliness
Workflows: finding a mode of organisation in line with the chosen strategy
Innovation: developing applications and tools.
Lastly, the projects supported must propose a business model adapted to their strategy, whether they rely on advertising revenues, grants, subscription services, crowdfunding or a diversification of activities.
An EBTICAR-Media award-winner is the Courrier International readers' choice
November 28, 2014
Le Desk takes a gamble on investigative journalism in Morocco
June 11, 2018
Encourage the structuring of professional organisations
The projects selected for funding under this component must be used to create mechanisms for trust and dialogue between online media, including:

Establishment of online press unions
Formation of working groups between journalists' unions and online press stakeholders to discuss ethical or statutory issues
Coordination and networking of collective organisations
Online media overview
May 19, 2015
Mideast Tunes launches its online radio station
December 10, 2015
Mashallah News – Solution journalism in the Near East
May 23, 2018
Promote partnerships between emerging and traditional media
The projects selected for funding under this component must be used to create mechanisms for trust and dialogue between online media, including:

establishment of online press unions
formation of working groups between journalists' unions and online press stakeholders to discuss ethical or statutory issues
coordination and networking of collective organisations
EBTICAR-Media is supporting innovative projects run by online information stakeholders in the Arab World
February 9, 2015
Birth of a new pure player in Morocco
November 26, 2015
Clicks for changing the world
December 2, 2015
A Workshop for all Ebticar laureates
February 23, 2016
GEN Summit 2016: three Ebticar projects will be covered in the Southern-hemisphere-media bootcamp
June 7, 2016
Seven-city Photo Marathon to be held on 22 October
October 14, 2016
Silencing the few voices left: Egypt blocks 21 news websites
May 30, 2017
Evaluation of the EBTICAR project
October 17, 2017