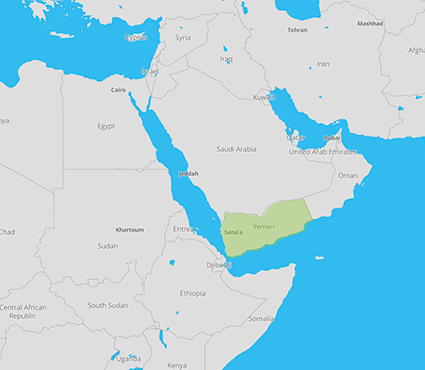 Goals
To facilitate access to reliable humanitarian information in Yemen by constructing a network of journalists, media and NGOs who will report objectively on the conflict and protect themselves from the threats against them.
Presentation
In the grip of armed conflict since March 2015, Yemen is now facing a serious humanitarian crisis: two thirds of the population are in need of aid, half of whom are in a state of extreme emergency, suffering from famine and cholera.
The extremely unstable security situation is restricting the ability of NGOs to reach the worst affected people, and is also forcing those Yemenis most in need of help to isolate themselves more, thereby cutting themselves off from information about the available humanitarian aid.
The lack of information is exacerbated by the fact that Yemeni media organisations as a whole face major challenges when trying to perform their duty to inform the public: with the constant threat of laws curbing press freedom hanging over journalists, practising journalism in Yemen often means having to hide to communicate information or going into exile. In addition, there are difficulties for journalists to deal with humanitarian issues in a journalistic manner.
In view of the urgency of the situation, and conscious of the fact that Yemeni journalists have a part to play in supporting the humanitarian effort, CFI is committed to implementing a project aimed at improving the circulation of humanitarian information intended for the affected populations.
Through initiatives aimed at forging links with NGOs operating on the ground and the provision of training to journalists on the journalistic handling of humanitarian information and production support, the YMER project, supported by the European Union, strengthens the role of Yemeni journalism as a key component in the communication and sharing of useful information between NGOs and their beneficiaries, thereby increasing the effectiveness of international aid to ensure it has a real impact. It also contributes to the freedom of informing Yemeni populations about the humanitarian situation in the country.
Verbatim
"The training provided us with in-depth knowledge and practical tools for writing and disseminating humanitarian stories."
Project beneficiaries
Around 15 Yemeni journalist trainers
Around 150 Yemeni journalists, from various regions and representing different types of media, who will benefit from training activities and production support.
Actions
Creation and strengthening of a network linking Yemeni journalists and NGOs
- Implementation of a collaborative group open only to Yemeni journalists and NGOs, through which warnings on the humanitarian situation are regularly exchanged.
- Recruitment of coordinators tasked with leading the network on the ground, from the north to the south of the country.
- International seminar linking journalists and NGO representatives to raise awareness in the Yemeni media to distribute information linked to the daily concerns of the populations.
Related news
Call for applications for Yemeni journalists
September 28, 2017
Are you a Yemeni journalist living and working in Yemen? Are you acutely aware of the humanitarian issues facing your country? We would like to...
Twenty-five Yemeni journalists meet to reflect on reporting humanitarian issues
November 30, 2017
With people in Yemen experiencing an unprecedented humanitarian crisis, 25 Yemeni journalists and NGO representatives met on 28, 29 and 30...
EU, CFI launch YMER+ project to support humanitarian journalism in Yemen
September 26, 2019
The European Union (EU) and CFI has launched, on 25 September 2019, the Yemen Media Emergency Response (YMER+) project, an integrated initiative...
Ten Yemeni journalists celebrate World Press Freedom Day
May 11, 2020
Ten Yemeni journalists involved in the humanitarian journalism YMER+ project, which is financed by the EU and put in place by CFI, are filmed...
Evaluation of the YMER+ project
September 1, 2021
With a view to contributing, through the media, to a rapid response to defuse the conflict in Yemen, CFI ran the YMER+ project between October...
Organisation of training courses aiming to strengthen the ability of Yemeni journalists to use the tools and techniques needed to produce information for humanitarian purposes.
- Organisation of training sessions for trainers in Jordan: collection and production of humanitarian information, design of educational tools for journalists.
- Organisation of training courses and coaching sessions in different regions in the country, in the presence of Yemeni NGOs that are partners of the project.
Related news
Humanitarian journalism in Yemen
March 1, 2019
Whilst traditional Yemeni media focus primarily on the political consequences of the conflict, very few journalists today manage to report on the...
A code of conduct for Yemeni journalists
December 4, 2019
Gathered in Amman (Jordan) to discuss media coverage of the humanitarian situation in Yemen in late November, thirty Yemeni journalists and...
COVID-19 protective kits handed out to 280 Yemeni journalists
December 8, 2020
As part of the YMER+ project, 280 COVID-19 protective kits were handed out to the YMER+ network journalists who are based in the five...
Production and sharing of humanitarian information intended for the people of Yemen
- Sharing of various humanitarian content linked to the situation in the country on the dedicated Sawtinsan platform.
- Provision of financial support to Yemeni journalists for production.
Related news
A blog and a Facebook page for providing humanitarian information in Yemen
June 5, 2019
The content, published by Yemeni journalists, favours reports and testimonies, to reflect the everyday difficulties encountered by people...
Conflict-sensitive media in Yemen, to cover humanitarian issues and promote peace
November 22, 2019
More than 30 Yemeni journalists and representatives of Yemen-based humanitarian organizations gathered in Amman on 20 to 22 November 2019, to...
Female journalist in Yemen: a challenge to overcome
March 4, 2020
Wedad Al-Badwi, an independent journalist aged 36 and founder of the Association of Female Yemeni Journalists (Association des femmes...
"The war stole my dreams"
March 6, 2020
Aya Khaled Aqlan, a 24-year-old Yemeni journalist and TV and radio presenter, recounts how the conflict in Yemen has turned her life upside down...
"Awareness saga" embodied by the youth of Yemen to prevent Corona infections
June 10, 2020
Sawtinsaan (human voice) platform aims to disseminate reliable and useful humanitarian information for Yemenis as well as touching humanitarian...
World Humanitarian Day: Conference in Yemen on 19 August 2020
August 20, 2020
Within the scope of the YMER+ project, a conference focusing on the co-operation between journalists and NGOs in Yemen will take place on...
A webinar on COVID-19 media coverage in Yemen
December 11, 2020
As part of the YMER+ project, a webinar on COVID-19 media coverage in Yemen will be held on Thursday, 10 December 2020 between 8 a.m. and 10.50 a...
Organisation of media coverage of peace negotiations in Yemen
- Preparatory meetings ahead of negotiations.
- Implementation of an editing room comprising Yemeni journalists
Related news
12 independent Yemeni journalists covering the peace talks in Stockholm
December 7, 2018
With the support of CFI, 12 Yemeni journalists are currently in Stockholm to cover the peace talks being held in Sweden under the aegis of the UN...
EU, CFI launch YMER+ project to support humanitarian journalism in Yemen
September 26, 2019
The European Union (EU) and CFI has launched, on 25 September 2019, the Yemen Media Emergency Response (YMER+) project, an integrated initiative...
YMER+ Results 2019
March 23, 2020
Developing a neutral media landscape in Yemen and using media to meet the needs of the population rather than as propaganda tools is necessary to...
Ali Al Fakih
November 16, 2021
Ali Al Fakih has been a journalist for 21 years, having worked as a reporter for several newspapers before joining Al Masdar Online, one of the...