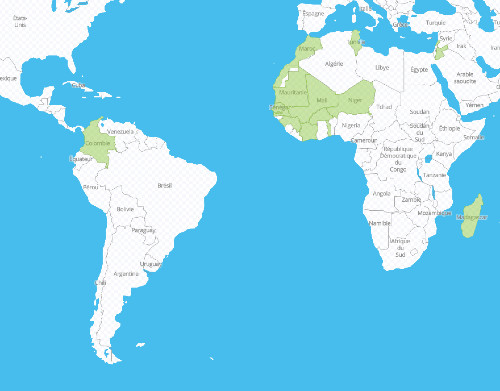 Presentation
In the public debate, discussions concerning migration and migrant populations that convey positive images are still in the minority. However, they help to combat discrimination against these people and contribute to strengthening social cohesion.
In this context, responsible and ethical media reporting on migration must be supported. Reporting on these global phenomena and disseminating messages on the subject of migrant populations without reproducing certain stereotypes presents an ongoing challenge for the media.
Launched in April 2021, Dialogues Migrations [Dialogues on Migration] contributes to the development of an inclusive public debate to change the way that migration is portrayed in the public arena.
Verbatim
It is important to involve all stakeholders in the dialogue on migrations – citizens, migrants, the media – and to create spaces for everyone to contribute their experiences.
Project beneficiaries
- Journalists, influencers
- Journalism students, researchers
- Online media managers
- Civil society stakeholders, experts involved in these fields (associations, research centres, non-governmental organisations, etc.)
Actions
Participatory study
- Performance of a participatory study covering 16 countries in order to understand and analyse the portrayal of migration in the media and on social networks and to assess the current actions deployed in this field;
- Reproduction and sharing of the findings of the study (experts, civil society, media, public institutions, etc.) during a forum;
- Launch of a communication campaign regarding the findings and trends identified by the study.
Related news
Dialogues on Migration: round table in Paris on 21 November
November 4, 2022
The "Dialogue between research entities, the media, collaborative entities and students concerning media reporting on migration in various...
Pilot activities in four countries (The Gambia, Guinea, Niger, Mauritania)
- Training of 80 journalists and bloggers in the balanced handling of issues concerning migration and in the production of content on the subject of migration, particularly regarding the most vulnerable migrant populations (women, minors, minorities);
- Launch of a digital platform allowing for the publication and visibility of content on migration, particularly content produced during the training courses, managed and fed by the AfricTivistes;
- Organisation of regional seminars to raise awareness of the challenges faced by the media when covering migration issues and to allow experiences to be shared with teachers in journalism schools;
- Provision of support to students at journalism schools in the creation and implementation of micro-projects as innovative educational initiatives to be developed.
Related news
Journalistic approach to migration-related issues :
 initial training in Senegal
September 15, 2022
In July 2022, the Dialogues Migrations [Dialogues on Migration] project launched its first activities in Dakar aimed at boosting skills.
Call for applications: training of ten media for each country (The Gambia, Guinea, Mauritania and Niger) on the coverage of migration issues
November 28, 2022
Are you a media/journalist/blogger interested in migration issues? Would you like to benefit from a capacity building activity to improve the...
Journalism schools: joint discussions on media coverage of migration
May 11, 2023
The École Supérieure de Journalisme de Lille (Lille School of Journalism, ESJ) and four counterpart institutions in sub-Saharan Africa are...