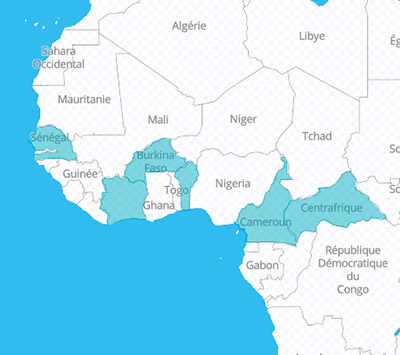 Presentation
In a growing number of African countries, fake news is now considered to play a major role in social disorder. In an effort to combat this phenomenon, some governments are implementing strict measures, such as blocking communication tools or adopting digital codes that restrict certain freedoms.
As a result, it's now even more important for Africa's journalists to have access to the tools and techniques they need to verify the facts. Unaware of how to identify it and in competition for audience ratings, the media often propagates fake news obtained from dubious sources.
Following in the footsteps of Verifox Africa, a pilot project launched in 2019, Desinfox Africa is providing support to media outlets in six French-speaking African countries in order to consolidate their journalists' understanding of fact-checking and to get them to implement the discipline into their editorial model.
Crédit photo : Olympia de Maismont
Verbatim
Desinfox trainings are very useful. Personally, the modules on Smart Breverty and Listicle were of great help to me. This is a very convenient way of processing fact-checking articles that I use on a daily basis.
Project beneficiaries
- Journalists trained in fact-checking techniques
- Media managers
- Regulatory bodies
- African civil society actors (bloggers and CSO members)
Actions
Forums and meetings
- Three forums raising awareness and offering a chance for reflection, marking the national launches of the project.
- A Euro-African meeting on the issues surrounding misinformation and the possibilities for collaboration between online news contributors.
- Regional meetings between the regulatory authorities of the target countries to exchange good practices and raise awareness of the importance of fact-checking.
- A regional closing forum bringing together the beneficiary media outlets from the six countries and French and European media representatives specialised in producing fact-checking content.
Related news
CFI attend the AfricTivists Summit held 11 to 13 November in Abidjan
December 14, 2021
This year, at the third AfricTivists Summit, the theme was "Promoting the development and democratic governance of the Internet in Africa". The...
Fact-checking training
- Getting to grips with visual verification techniques thanks to an e-learning module "Combating fake news" (mobile app developed with the France 24 Observers).
- Consolidating the basics of fact-checking and bringing journalists who are new to this discipline up to speed: how social media and online news work, spotting fake news, source verification, content production, fact checker integrity, etc.
- Training on how to use advanced digital tools for fact-checking.
- Training for fact-checking trainers aimed at the journalists who have progressed the most during the project and monitored remotely.
Related news
"That day, the training session was interrupted: there was a coup d'état unfolding right there and then"
February 8, 2022
"This was my eighth mission for CFI in Ouaga. On 24 January, the first morning working on the 'fact checking narrative' was quickly turned upside...
Training as a starting point for the fight against misinformation
March 29, 2022
With information tampering on the rise, it is essential that journalists be trained in the use of fact-checking tools and techniques. CFI has...
Grâce Ngbaléo, "Hang in there, girl!"
October 12, 2022
Grâce Ngbaléo, a 31-year-old journalist who actively defends women's rights, is a model of determination for other Central African women to...
Myriam Hemes Njimegne Nkwa: words can cure all ills
February 28, 2023
Myriam Hemes Njimegne Nkwa (28) is a doctor and activist blogger in Cameroon. Over the moon to live out her dreams every day, the "Smile doctor"...
Sabre Na-ideyam: patience and length of time...
March 28, 2023
Sabre Na-ideyam, 36, is passionate about fact-checking. An ultra-connected journalist with Tchadinfos.com, he has learned to control his...
Acting to ensure verifiable information
March 29, 2023
International Fact Checking Day on 2 April provides an opportunity for CFI to restate its prioritisation of the fight against misinformation.
An overview of fact-checking and content production
- Getting to grips with multimedia storytelling techniques.
- Three-day on-site coaching for each media outlet selected in order to launch the fact-checking item or programme and finalise the draft for the editorial charter, and remote support.
- Strengthening journalists' abilities to use different multimedia formats for their content.
- Strengthening fact checkers' community management abilities and introducing different strategies for optimum visibility of the content produced.
Providing support in seeking funding and as regards the economic viability of fact-checking
Training the media outlets selected on how to pursue partnerships and create a finance file.
Introduction to IFCN (International Fact-Checking Network) criteria and media auditing
Workshop with the IFCN allowing it to explain what it does to the media outlets selected.