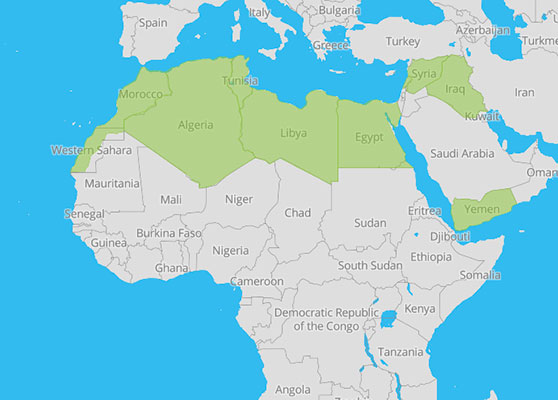 Presentation
At a time when journalistic practices are being disrupted due to the repercussions of the Covid-19 health crisis, CFI, in partnership with the Lebanese media outlet Daraj and Tunisian media outlet Barr Al Aman, is offering journalists from the Arab world online meetings and resources to provide them with the tools to adapt. Indeed, the pandemic has rapidly become omnipresent across all media, favouring the coverage of "hot" topics, to the detriment of other news that still remains essential for the population.
CFI's experience and networks in the Arab world, combined with those of media outlets in the Levant and Maghreb regions, are assets for strengthening ties between journalists in the region, promoting the sharing of experiences and offering expert advice to inform them about complex issues.
"Ama baad", an Arabic expression meaning "and after" or "then", evokes, beyond the strictly health aspect of this crisis, the desire to "move forward" to analyse its effects on our societies and enable journalists to better report on its consequences.
Verbatim
Ama Baad's conversations and resources shared across the group have been very helpful in coming up with ideas for journalistic investigations and identifying reliable sources.
Project beneficiaries
Arabic-speaking community journalists from CFI and its partners.
Actions
Weekly meetings with experts (online conversations)
Every Thursday, starting on 4 June 2020, the Arabic-speaking journalists are offered a 45-minute meeting in Arabic, with a guest (a sociologist, an economist, etc.) and led by a moderator: the first part (25 minutes) on the analysis of a topic by an expert, guided by questions from the moderator, and the second part (20 minutes) during which the expert answers questions sent by the journalists taking part.
Here are some examples of the topics covered:
Health crisis vs economic crisis: how to stay connected to the field?
Mental health, the media's big omission, why?
How are epidemics and the "fake news" that accompanies them created?
Food security vs food sovereignty: the great post-Covid-19 challenge?
Related news
Ama Baad: Mental Health & Media: the great forgotten topic?
June 11, 2020
This week, CFI, Daraj and Barr Al Aman are welcoming you to talk about Mental Health & Media: the great forgotten topic?
Ama Baad: how do they appear along with a pandemic?
June 18, 2020
This week, CFI, Daraj and Barr Al Aman are welcoming you to talk about Fake news : how do they appear along with a pandemic?
Civil war, foreign interference and Covid-19...
June 25, 2020
Civil war, foreign interference and Covid-19...
Food security vs food sovereignty: the major post-Covid19 challenge?
July 2, 2020
Join the conversation on Thursday, 2nd of July with the sociologue Saker El-Nour from IRD and the journalist of L'Orient-le Jour, Suzanne Baaklin
Racism in the media: what is the responsibility of journalists?
July 9, 2020
Can we be racist without knowing it? Is racism in Arab countries "harmless" as some claim?
Journalists: How to better inform about migrations?
July 17, 2020
How to talk about migrants in their daily normality, without any ideology?
Water in the media: how to humanize a problem that goes beyond borders?
July 24, 2020
This is not a scoop: Arab countries are the most exposed to the lack of water resources.
What impact has the COVID-19 pandemic had on the media and journalists?
March 18, 2022
CFI has published a study into the impact of the COVID-19 pandemic in Morocco, Algeria, Tunisia, Libya, Egypt, Sudan, Lebanon, Jordan, Syria...
Creation and Moderation of a Facebook group
A Facebook group, moderated by the Daraj team, supports these weekly meetings. In order to provide a space for discussions, primarily in Arabic, between professionals from the region; only journalists are invited to join this group.
A hub of content associated with the topics to be covered makes it possible to prepare for the meetings and promotes interaction.
Related news
Online meetings and resources to adapt the practices of journalism in time of COVID-19
June 4, 2020
COVID-19 is generating unprecedented media coverage; health constraints are disrupting journalists' working conditions.
Content production support
Media outlets and journalists in the region receive support for content production. They are invited and connected with the "Ama Baad Conversations", to allow some of this content to be discussed or presented during these conversations.
Related news
Dream FM tackles the coronavirus in Tunisia
June 18, 2020
Dream FM, a community radio station that broadcasts throughout the Governorate of Kairouan and its surroundings, has been playing a full and...