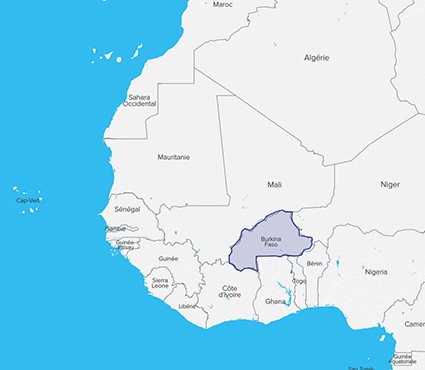 Presentation
The uprising in Burkina Faso in 2014 exposed a breakdown in trust and communication between citizens and those in power, as well as highlighting the considerable need for transparency and accountability on the part of elected officials. However, Burkinan citizens have little awareness of the ways in which they are able to get involved in public action. The media, for their part, still have a poor grasp of the often complex mechanisms for economic and budgetary management and thus rarely cover these issues.
EcoMedia is aimed at increasing transparency in the management of public affairs and opening up the debate surrounding these matters in Burkina Faso. Thanks to the support of six civil society organisations (CSOs) specialising in budgetary monitoring and economic analysis, over the course of 36 months around 60 journalists will have the opportunity to attend training workshops on these subjects, resulting in the production of more than 600 articles and programmes, including in the country's national languages. Lastly, in synergy with these workshops, the media will organise conferences, interactive programmes with citizens participating by telephone or social networks, and street interviews.
This project, led by the UNALFA (Union Nationale de l'Audiovisuel Libre du Faso; National Union of Free Audiovisual Media of Burkina Faso) and CFI and funded by the European Union, is continuing on from the Faso Media (2015-2016), which supported Burkinan media in the production and broadcasting of general-interest programmes which more accurately reflect the concerns of citizens with regard to elections.
Project beneficiaries
Around 60 journalists from 20 radio stations, 4 television channels and 6 newspapers from the written or online press, distributed in 38 towns in Burkina Faso.
A half-dozen CSOs working on questions relating to budgetary monitoring, transparency and accountability.
400 citizens involved in programmes and focus groups.
Actions
Workshops relating to methodological and conceptual support for journalists
Organisation of 12 workshops on the journalistic coverage of issues relating to budgetary monitoring and economic analysis (providing support for editing, research, development of the subject, editorial management, documentary research and computer graphics).
•Four training workshops providing methodological and conceptual support to interpret, analyse, monitor and evaluate national and local budgets;
•Two training sessions on editorial management regarding economic issues;
•Four training workshops on documentary research and the rational use of the internet and social networks as a source;
•Two training workshops on computer graphics, each lasting one week.
Related news
Editorial management: choosing the right angles and content
February 5, 2019
A workshop for further training in editorial management was held for the beneficiaries of the EcoMedia project from 31 January to 5 February 2019...
Support and assistance for producing and disseminating articles and programmes
Support for the production of articles and programmes in the national and local press, the online, radio and television press; joint productions and media broadcasts of articles or programmes during political or economic events.
Related news
Strengthening some 30 local radio stations in Burkina Faso
November 15, 2021
In Burkina Faso, local radio stations play a real public service role. Over the summer, UNALFA and CFI led several initiatives for their benefit.
Conferences and focus groups
•Organisation of a seminar on the theme of "Citizens, media and public finance";
•Preparation, organisation and consolidation of focus groups on these themes before and after the project.
Related news
Improving financial news in Burkina Faso
May 15, 2019
One hundred and fifty people gathered together in Ouagadougou, from 28 to 30 January 2019, for the workshop launching the EcoMédias (EcoMedia)...
Cross-cutting activities
•Press conference;
•Reinforcement of UNALFA (Union Nationale de l'Audiovisuel Libre du Faso - National Union of Free Audiovisual Media of Burkina Faso) in terms of project management