Safir: the seven "incubators" trained in media mentoring
June 24, 2021
On CFI's initiative, members of the Safir incubator network have learnt to adapt their methodology to projects with a specific media focus. This training, which was held online on 27 May 2021, was run by the Médianes organisation.
While the window for submitting applications to participate in incubation is open until 5 July, the incubators are preparing to welcome, for a six-month period, three categories of projects led by young entrepreneurs, students or media outlets. So, starting in September 2021, a total of 90 young men and women leading projects having a social, cultural and/or environmental impact will receive support and guidance in developing their initiatives.
A third of them will be media projects.
In order to support the latter more specifically, the Safir network's member incubators in each country (Bidaya in Morocco, The Algerian Center for Social Entrepreneurship in Algeria, Al Badil - Alternative Culturelle in Tunisia, Icealexandria in Egypt, Jordan Youth Innovation Forum in Jordan, Lebanon Support au Liban et UCASTI in Palestine), were able to benefit from suitable training, which took place as part of the plan to pool best practices, led by the Safir project partners, Lab'ESS and Pitchworthy, prior to the incubation process. Great emphasis was placed on interaction and discussion between participants.
The 3-hour training was therefore punctuated by time for explanations, followed by group workshops.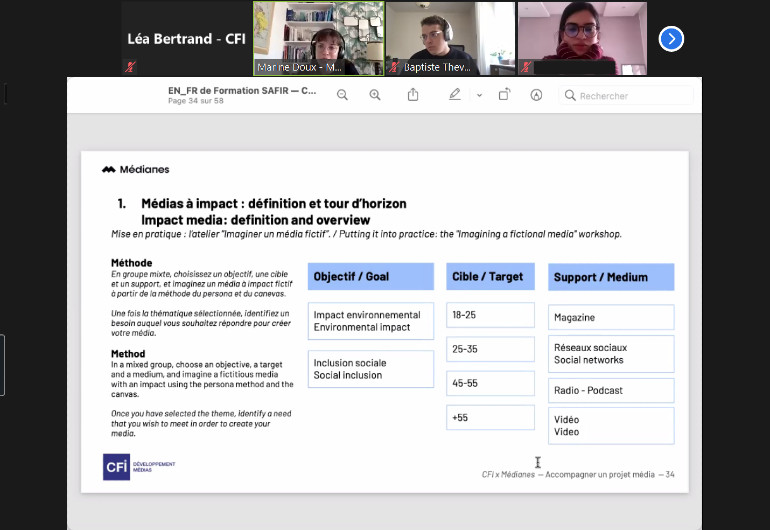 First of all, the incubators were able to familiarise themselves with the definition of a media project and of impact media, through examples from the Safirlab project and through putting themselves in the shoes of a media creator, by means of tools such as the "persona" and "framework".