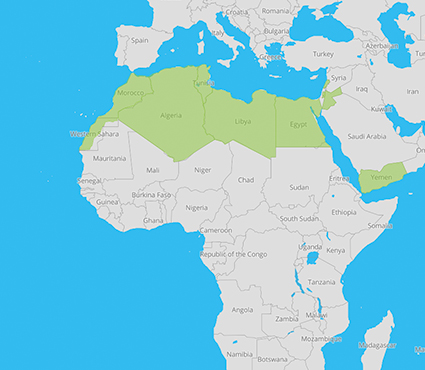 Goals
Provide support to CSOs and social incubators on both sides of the Mediterranean.
Promote local and regional cohesion, prioritising the provision of support to projects located outside of capital cities and favouring those establishing interconnections between the Maghreb and the Mashriq.
Help to reduce gender inequality by ensuring that 60% of projects selected are being led by women and by supporting projects campaigning to protect women's rights.
Presentation
Intended to act as an incubator, SafirLab is aimed at young people with innovative social projects in North Africa and the Middle East. The right to education, raising awareness of health-related issues, creation of citizen media, women's rights... Throughout the Arab world, young people are working hard to develop their societies, improve their everyday lives and promote freedom of expression.
A programme that acts as a catalyst for initiatives aimed at strengthening civil society and developing online media, SafirLab offers tailored support to one project leader from one of the eleven Arab world countries (Algeria, Egypt, Iraq, Jordan, Lebanon, Libya, Morocco, the Palestinian territories, Syria, Tunisia and Yemen) for his or her projects, alternating between workshops aimed at boosting skills, personalised diagnostics and professional meetings held in the project's three working languages, French, English and Arabic.
SafirLab's aim is to support initiatives promoting development and stability within countries experiencing deep crises. By supporting these projects, the Institut français and CFI are working together with young people in the Arab world, helping them to build a promising future for their countries. A third of the 305 million inhabitants of Arab countries, i.e. 105 million people, are aged between 15 and 29 (UNDP study, November 2016). It is this young generation that SafirLab is targeting.
Verbatim
"By providing them with some key pointers, tools and advice from more experienced people, we will be able to move things along faster. By immediately offering them an entrepreneurial approach, we will be able to contribute to the longevity of the projects."
Project beneficiaries
75 project leaders (over 3 years), aged between 20 and 30 years old.
Actions
Call for applications
In collaboration with France's overseas cultural and cooperation network, a call for applications and selection of 25 business or community projects (in 2016 and 2017).
SafirLab: Launch of a call for applications
May 20, 2016
Apply to SafirLab 2017!
June 8, 2017
SafirLab is recruiting for its new intake!
May 14, 2018
Training session in Paris
This session in Paris combines skills building workshops (a choice between finance and communication) with diagnostics and personalised support for projects and professional meetings tailored to the profile of each participant and the specific features of his or her project.
Corporate events intended to enable them to build upon their networks and inspirational meetings with key players in the social and solidarity-based economy and the French media are also on the agenda.
Social innovation at the heart of SafirLab 2016
November 8, 2016
Paris hosts the 6th edition of SafirLab
November 8, 2017
Incubation period within each of the project leaders' countries
Following the session in Paris, the organisations making up the consortium of partners enter into a commitment to ensure that mentoring takes place and that the scale of the projects changes over the following nine months. They offer participants a review every two months and involve them in the events that they organise.
SafirLab: new incubation session in Tunis
April 16, 2019
Final group session: "summary and prospects for the development of the projects" in one of the eleven countries
Once the personalised monitoring has been completed, the participants are reconvened for a final group discussion session that will enable them to establish the next steps for their partnerships.
SafirLab welcomes 26 participants in Paris
November 5, 2018
Female social innovation in the Mediterranean
March 8, 2019
That's a wrap for the 2018-2019 SafirLab promo!
July 3, 2019
Tala Al Sharif
November 16, 2021