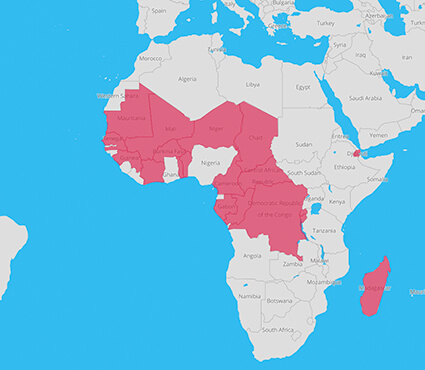 Goals
To promote the emergence of a new generation of IT professionals in French-speaking Africa
To support the expansion of a media innovation ecosystem over the entire continent
To create an ecosystem bringing together journalists and investors with a view to inventing tomorrow's media
Presentation
With mobile telephony and, to a lesser extent, the Internet developing apace, the media are having to address African consumers' switch to digital. Even though there are several overseas initiatives on this promising market, African stakeholders still do not have sufficient professionals in the field of information technologies or access to the capital they need to develop new services and content.
In this context, the Innovate Africa project aims to help a new generation of African media professionals to create and develop innovative information products and services in line with advances in technology, usage and the expectations of the continent's citizens.
Innovate Africa will also help journalists and web developers with innovative ideas to compile, process and distribute information in the era of the Internet, mobile phones, social networks, data journalism and all the new techniques that are shaking up the media ecosystem in Africa. The project is designed to enhance the quality and impact of online African journalism and to expand its audience using economic models that encourage independent work.
In a rapidly advancing environment, CFI has chosen to support social media stakeholders and also the traditional media in the switchover to digital, content creators, and developers by helping raise their professional standards and grouping them together under a federation.
Using an online training course (MOOC – Massive Open Online Course) and activities out in the field, the project's aim is to nurture and develop an ecosystem bringing together journalists and IT developers with a view to inventing tomorrow's media.
Verbatim
"The Mooc Innovate Africa has offered everything a journalist needs to be in line with the requirements of Web 2.0. The teachings on data journalism, social networks or simply the monitoring tools on the internet particularly impressed me!"
Project beneficiaries
the traditional media attending innovation awareness-raising conferences
200 journalists and web/mobile developers in "hackathons", which will be taking place in 7 countries
180 web/mobile developers at data boot camps
the journalists, bloggers, designers and developers registered on the MOOC
project leads involved in the Innovate Africa competition.
Actions
Media hackathons and innovation awareness-raising conference
A hackathon (event bringing together developers to discuss collaborative IT programming) has been organised in 7 cities: Douala, Abidjan, Antananarivo, Casablanca, Dakar, Algiers and Tunis, in partnership with national media and co‑working hubs or new-technology incubators.
Over the course of these events, journalists and IT developers will be invited to develop an innovative service or product prototype for the information sector.
Prior to the event, an awareness-raising conference for local media general management will be organised to bring them up to speed with the innovation challenges they will face.
Related news
Afrique Innovation supporting innovation in online media in Africa
April 8, 2015
The digital revolution is radically transforming how information is accessed. All around the world we are witnessing an explosion of websites...
Abidjan: the first media innovation marathon
May 7, 2015
The first "hackathon" (media innovation marathon) under the #AfriqueInnovation programme launched by CFI and Code for Africa was a great success.
Dakar : Innovation in the media is going mobile (and becoming more female?)
June 10, 2015
Five teams of journalists and developers took part in a friendly competition at a hackathon (media innovation marathon) in Dakar (Senegal) from...
Innovation in support of the Antananarivo media
July 1, 2015
Six teams faced off during a 'media innovation marathon' held in Madagascar on 19–21 June 2015. The 38 participants were extremely driven...
Innovate Africa: 3 hackathons in October (Tunisia, Morocco, Algeria)
September 16, 2015
Following on from those held in Abidjan, Dakar, Antananarivo and Douala, CFI and Code for Africa are organising three new 'media innovation...
Media innovation was the focus of three hackathons in Tunis, Casablanca and Algiers
November 12, 2015
Between 2 and 17 October 2015, over thirty Tunisians, Moroccans and Algerians were pitted against one another in friendly competitions to create...
Innovate Africa: the 12 finalist projects
February 1, 2016
Over a five-month period in 2015, some 2,800 people took part in the two learning segments making up the ' Innovate Africa Massive Open Online...
Boot camp
6 boot camps will be organised, in Johannesburg, Accra, Nairobi, Abuja, Kampala and Dar es Salaam.
Data boot camps are workshops that focus on the use of data. Web application developers will consolidate the prototype application.
MOOC (Massive Online Open Course)
An interactive online course has been set up as two learning segments – one for journalists and one for developers – lasting 5 months and validated by certificate.
The first part offers teaching and the second invites segment attendees to collaborate on joint projects.
The aim is for as many young African web professionals as possible to be able to submit an innovative project to the Innovate Africa panel by the end of the course through the support of a remote/online mentoring system.
Related news
Free online training course (MOOC) to promote the emergence of innovative media in Africa
July 7, 2015
With mobile telephony and, to a lesser extent, the internet developing apace, the media are increasingly called upon to anticipate African...
Innovate Africa Competition and fast-track programme
After an initial continent-wide selection procedure, around forty project leads will take part in a fast-track training programme led by international mentors
After a final selection phase, the most promising projects will receive funding and a share in an overall pot of $1 000 000 (from $10 000 to $100 000 per project).
Related news
Innovate Africa Competition
September 13, 2016
$1 000 000 to be won for supporting innovation in online media in Africa
Innovate Africa: 736 entries received!
January 12, 2017
Seventy projects have been shortlisted for the Innovate Africa competition. Evaluation will begin on 15 January and the winners will be announced...
What role do radio stations play within a community?
July 12, 2017
After taking part in a training session in company management, six radio stations in the Central African Republic have chosen to create a...