Ali Al Fakih
November 16, 2021
Ali Al Fakih has been a journalist for 21 years, having worked as a reporter for several newspapers before joining Al Masdar Online, one of the main Yemeni news sites. In 2014, the arrival of the Houthi militias in Sanaa forced him to flee his country in order to continue working.
When the Houthi militia arrived at our office, they took control of it and we had to leave Sanaa", Ali Al Fakih explained.
At first, he headed for Taiz, in the south-west of Yemen, before staying in Marib for three months in 2015. Unable to carry out his job in a war-torn country with no electricity or Internet, he ended up moving first to Riyadh, then Amman and Cairo, before settling in Istanbul, where he still works today.
In Al Fakih's view, Yemeni journalists face several challenges. Firstly, many regions are at war, so it is impossible to work as a reporter there. "In many governorates, we don't know what is going on. Many crimes take place every day, for example in Al-Hudaydah or Amran, but we are not up-to-date on the situation and cannot write about it", he complained. Elsewhere, such as in Sanaa, reporters must work in secret, in constant fear of being spotted and arrested.
The second challenge is the power cuts that prevent on-site journalists from connecting to the Internet, sometimes for several hours at a time. This means Al Fakih has to keep asking his reporters where they are. It sometimes takes him ten hours to get a news item. However, he has never stopped reporting on the war in his country: "We must continue our work like we did at the start because we're journalists and it's our duty to keep going. Our country needs us to tell the world what is happening every day in Yemen."
In light of this difficult situation, Al Fakih works from Istanbul, in contact with his colleagues from the editorial team based in Canada and with reporters still in Yemen, in several governorates, including Taiz, Aden and Lahij. These journalists report daily on the conflict, in the most professional way possible.
"When it comes to our opinions, we are against the militia, as we want the government to return to Sanaa. But we try to give information from different angles and to write about all the parties involved in the conflict", Al Fakih explained.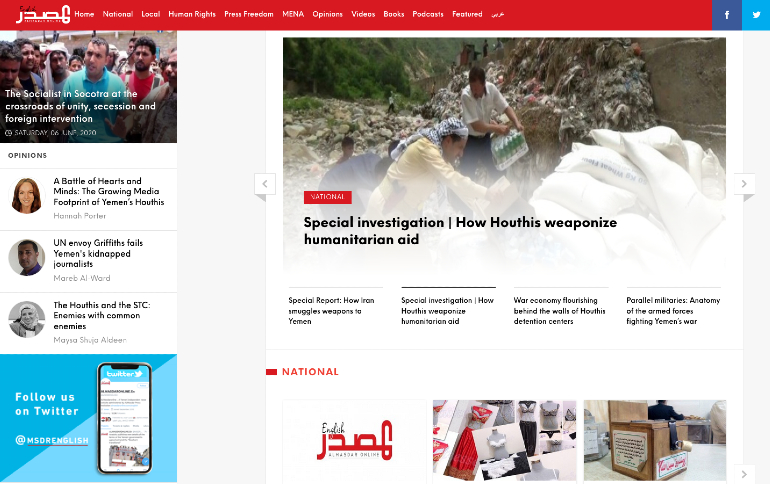 Our country needs us to tell the world what is happening every day in Yemen.
In November 2019, he participated in CFI's YMER+ project, aimed at encouraging the circulation of humanitarian information to Yemeni people affected by the war. The workshops held in Amman reminded him that journalists have a duty to look beyond the various stakeholders in the conflict and focus on its victims.
Since then, his work once again revolves around humanitarian issues.
---
Through the testimonies, portraits of journalists and the human adventures of our series Aswat Jadida ("New Voices", in Arabic), discover ten years of support for media development in the Arab world.