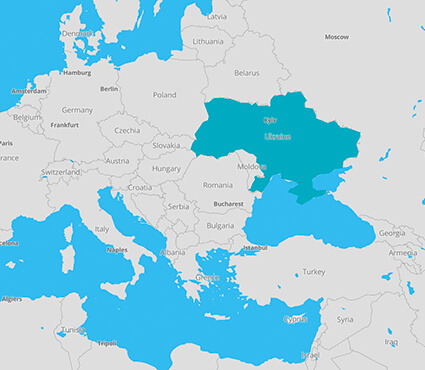 Presentation
Southern and eastern Ukraine are currently facing a crisis on two fronts: the first associated with the conflict with Eastern Russia, ongoing since 2014, and the second as a result of the Covid-19 pandemic. Both are breeding grounds for disinformation and are making it necessary to both diversify information and strengthen the independent media in the country.
MediaFit is an ambitious programme, which aims to improve information integrity in Ukraine and the resilience of the Ukrainian media in this context, especially in the southern and eastern regions. Supported by the European Union, it is being implemented by the Deutsche Welle Akademie (DWA), in partnership with CFI and Lithuanian National Radio and Television (LRT).
At the core of MediaFit is the desire to offer the people of these regions better access to relevant and reliable information – an essential prior condition for restoring confidence in the media, reducing disinformation and building an inclusive peace-building process.
Project beneficiaries
- 25 independent media outlets,
- 250 journalists (citizen journalists, civil society stakeholders) working to verify facts and counter disinformation, on issues associated with the media in the target regions,
- 20 directors from 10 regional stations and the head office of Ukrainian public television UA:PBC,
- 20 independent producers working in the target regions.
Actions
Support for local media
- Financial support for independent local media outlets;
- Training programme to ensure their economic and financial viability;
- Organisation of a conference bringing together around 100 regional media outlets to discuss the viability of the media and facilitate the creation of a network.
Support for quality content production and digitalisation
- Implementation of an independent journalism support fund;
- Skill-building programme for journalists and media outlets in content creation and media outlet management;
- Awarding of a MediaFit prize for the best productions developed over the course of the project.
Related news
Ukraine: four winners announced following calls for documentary projects
February 20, 2023
As part of the Media Fit project, CFI is supporting the production of independent documentaries. Four projects were chosen following the call...
Support for UA:PBC and independent producers in the south-eastern regions of Ukraine
- Mapping of independent producers and production companies in the target regions;
- Training and best practice-sharing programme for co-productions;
- Implementation of a regional production support fund in cooperation with UA:PBC.
The implementation of this component has been entrusted to CFI.
Related news
Supporting UA:PBC, the national public broadcaster of Ukraine, so that it can continue producing high-quality programmes
October 21, 2022
A grant of nearly €145,000 will enable it to finance several reports and documentaries that are adapted to the conflict situation.