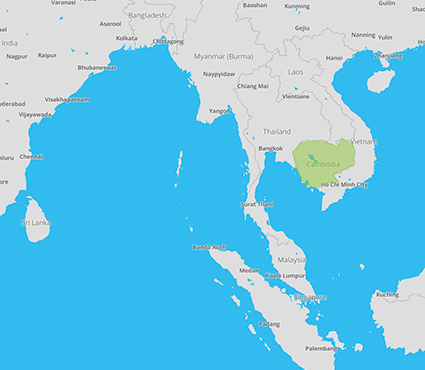 Goals
To enhance information on agriculture related issues and professional prospect aimed at young people from rural region by promoting the development of media content and improving the capacity of professional journalists and students to cover these topics.
Presentation
As the mainstay of the country's economy, agriculture has been identified by the Cambodian government as one of the four development priorities. Rural populations, affected as they are by the impact of global warming, need to adapt and to develop new agricultural techniques.
Rural Connections aims to improve the information available to these populations – and to young people in particular – in the areas of agriculture and sustainable development by improving the capacity of journalists and journalism students to cover such topics and by promoting the production and dissemination of content, especially via radio stations, online videos and social media.
Revamped and better quality information will serve to provide young people living in rural areas with new prospects within their communities, in particular by encouraging the development of emerging initiatives in agroecology, a promising avenue in terms of income, health and autonomy.
Verbatim
Journalists must build a bridge between producers and consumers.
Project beneficiaries
Around one hundred media professionals, drawn especially from local media outlets or outlets specialising in the coverage of rural and social issues.
Around thirty journalism students.
Actions
Initial forum devoted to the media treatment of rural, agricultural and environmental issues
Assessment of the current situation, solutions and overview of the Rural Connections project.
Related news
Cambodia: how can we develop rural information in the media?
November 26, 2018
On 25 October 2018 in Phnom Penh, the launch of the Rural Networks project brought together around forty media professionals and members of NGOs...
Development of a specific training module
This extramural training module focused on journalistic coverage of these topics will provide an opportunity for participants to immerse themselves in a rural environment, the aim being to facilitate practical applications.
Related news
All on board for an environmental journalism training course in Cambodia
March 19, 2019
17 young journalists have spent two days on the Mekong and the Tonlé Sap on board a boat converted into a training room.
Development of a specialist training programme
Development of expertise among professional journalists, whether from the provinces or Phnom Penh, on specific topics (agriculture, climate, the environment, etc.).
Provision of support to a media outlet
Over the course of 18 months, provision of support to news pure player Thmeythmey.com in developing and structuring new content covering agriculture and related issues for the residents of rural areas.
Related news
Thmey Thmey at the forefront of the Cambodian media
September 6, 2018
One day in my media organisation is a series of weekly reports illustrating the daily lives of people who work in media organisations across...
Promoting local news in Cambodia
September 14, 2018
At the start of September 2018, journalists from the news pure player Thmey Thmey were taught how to report on topics specifically relating to...
Provision of support to local and national media outlets in developing investigations
Following a call for applications to select media outlets or journalists, provision of support by an expert over a period of 6 months to assist with choosing topics of investigation and their coverage, with a particular emphasis on improving their ability to use data journalism tools.
Provision of support to journalists in the field
Provision of support to journalists at the next Siem Reap agricultural fair to cover the event and during field trips and visits to agroecological farms or other innovative projects, the aim being for Cambodian media professionals to immerse themselves in real-life situations and improve their knowledge of rural topics, environmental issues and innovative initiatives in agriculture.
Related news
Covering agricultural stories in Cambodia
November 30, 2018
In November 2018, some fifteen Cambodian journalists met in Siem Reap for a week-long introduction to scientific journalism relating to...
Support for content creation projects
Aimed at young people, the fun and informative content on agriculture created as part of this project will be disseminated for the most part on social media, thanks in particular to the Cambodian NGO Khmer Youth Association (KYA). Its aim will be to promote positive solutions and initiatives.
Related news
Developing inspirational content for young people in rural areas
November 30, 2018
The audiovisual production team of the Cambodian NGO Khmer Youth Association (KYA) spent a week in October 2018 training in film-making...