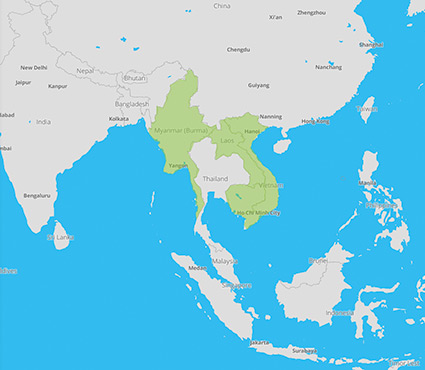 Presentation
Vietnam, Cambodia, Laos and Myanmar are all predominantly rural countries; indeed, in the last three, more people work in the agricultural sector than any other. These four countries are among those that are most affected by climate change, especially in rural areas. They also have to cope with major challenges in terms of air and water pollution, food safety and new pandemics.
Faced with these threats, the work carried out by journalists is absolutely critical, as it makes it possible to raise people's awareness and inform them about the issues linked to sustainable development, so that they will be inspired to play their part in making the environmental changes needed in their respective countries.
Launched in 2019, the Mekong: Sustainable News project is helping to improve how scientific news topics are being processed in the Mekong region, especially by digital media organisations. It is encouraging journalists to cover environmental subjects in a positive and humane way, by highlighting tangible solutions. Journalists have to act as intermediaries between the scientific community and the general public, so that people can be informed about the most relevant points concerning the key challenges ahead.
The project is specifically financed by the Solidarity Fund for Innovative Projects, Civil Societies, French-Speaking Countries and Human Development, which is run by the French Ministry of Europe and Foreign Affairs.
Actions
Training courses on the fundamentals of journalism, paving the way for scientific specialisms or environmental specialisms (data journalism, fact checking, video...)
Training courses on web writing, digital tools (verification, data-journalism, fact-checking, geolocation) and video reporting.
Workshops on relationships with the audience, the use of social network sites and the social responsibility of journalists (morals, ethics, and combating fake news).
Mekong: Sustainable News – first initiatives launched in Cambodia
July 1, 2019
Burmese editorial teams receive data-journalism training
October 15, 2019
Mekong: sustainable news, results 2019
May 15, 2020
Mekong: Sustainable News launches ''Science Talks'' in Cambodia
June 9, 2020
Understanding the technical link between dams and water distribution on the Mekong River
July 25, 2020
Into CFI and Varan "Water and Mekong Delta" documentary film training in Can Tho
September 23, 2020
MekongNews and AirParif: how is air quality measured and what's its impact on health?
November 19, 2020
600 days of #MekongNews
December 11, 2020
Sokcheng Seang, the blogger who whispers in young people's ears
March 3, 2021
Soklim Ky, all-terrain journalism
August 24, 2021
Evaluation of the Mekong: Sustainable News project
September 10, 2021
Training courses and support for the production of content focusing on environmental protection and climate change
A training course for trainers on how to analyse local issues and understand international negotiations
Drawing-up of technical data sheets for educational and journalistic use (online, in four languages)
Specialist training courses on how to handle subjects relating to the effects of climate change and to environmental protection
Training courses and support for the production of documentaries focusing on issues affecting the Mekong Delta
Assistance in producing digital content
Microplastics pollution in Vietnam: bringing useful information to citizens
December 5, 2019
Launch of the Mekong Media Initiative
June 3, 2020
Hoàng Nhat Nguyen's goal is to stir people's consciences
June 9, 2021
Saychai Phanthavong: building a greener future
October 12, 2021
Training courses and support for the production of content focusing on sustainable forms of production and consumption and on health
A training course for trainers on how to analyse local issues and understand international negotiations
Drawing-up of technical data sheets for educational and journalistic use (online, in four languages)
Specialist training courses on how to handle subjects relating to agroecology, irrigation methods, environmental health, and what to do in the event of a natural disaster
Field trips, study visits to farms and an environmental health unit (in France), to help the participants to become more specialised and produce reports
Assistance in producing digital content
Explaining economic development through data journalism
February 21, 2020
"Featuring Green Growth": CFI and GRET launch their visual storytelling training program in Laos
March 25, 2020
Announcing the selected participants to the "Featuring Green Growth" programme
July 10, 2020
#MekongNews celebrates environmental reporting in the Mekong region
July 27, 2020
#MekongNews extends it #ScienceTalks to Vietnam
January 25, 2021
Bounheng Southichak, Listening to Laos
March 29, 2021