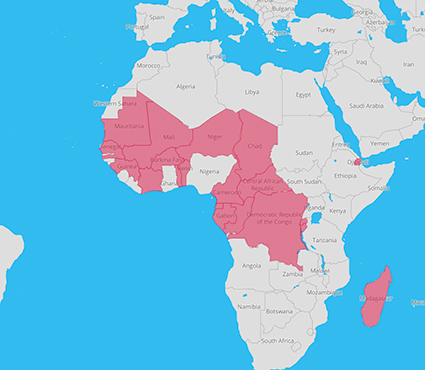 Presentation
Given the rapid increase in the number of Africans who are connected to the internet and social networks, few traditional media outlets, whether from the written press, radio or television, have chosen to follow their public, particularly the younger members, onto social networks.
It is vital that these media outlets consolidate their presence on the internet and social networks by developing content that is suitable for such platforms and by focussing on interactivity to enrich their content.
The Media 360° project aims to help 15 of these media outlets, which have been selected after a call for applications, to familiarise themselves with social networks so that they can broadcast various forms of content in suitable formats on them in response to the new forms of media consumption.
Media 360° is following in the footsteps of projects already launched by CFI in Africa in the field of new media and innovation (Innovate Africa, Open Data Media, NAILA Media, among others).
Verbatim
This training provided me with new knowledge and new practices. I've learned how to manage an editorial schedule and create visuals for social networks more easily.
Project beneficiaries
Managers and journalists responsible for the social networks of 15 traditional African media outlets (radio, TV or written press).
Actions
Raising the awareness of the managers on matters relating to social networks
After a call for applications, selecting 30 media outlets for an awareness‑raising session for their managers on the use of social networks, leading to the creation of a development plan.
Related news
Media 360°: the 26 media undertakings selected
September 20, 2017
In the wake of the call for applications launched in July, CFI has chosen 26 media undertakings from French-speaking Africa (written press, radio...
Training journalists in producing and moderating on social networks
Introducing journalists from 15 media outlets, selected after a meeting with the managers, to producing content (use of Facebook, Twitter, Instagram etc., creation of visuals and videos etc.) and verifying and publishing information on social networks.
Supervision and support
Implementation of lively and collaborative online platforms to maintain a link between the participants and to encourage the sharing of good practices, and coaching tailored through the passage of an expert-trainer in their writing.

Related news
Radio Mampita, a media organisation for farming communities in Madagascar
April 5, 2018
"1 day in my media organisation" is a series of reports, which, each week, gives an account of the daily lives of people working in media...
Essentielle: a touch of femininity in the Madagascan media landscape
July 23, 2018
One day in my media organisation is a series of weekly reports illustrating the daily lives of people who work in media organisations across...
Carole Ambassa: in support of health and nature
February 22, 2021
At 29, Cameroonian Carole Ambassa chose scientific journalism, which, in her words, is closely connected with the day-to-day health and...
Solange Shagayo Kagombe, the radio star at Radio Star
February 22, 2021
To mark World Radio Day on 13 February, CFI is inviting you to discover more about the career paths taken by three radio journalists from the...
Closing Seminar
Closing seminar bringing together managers and journalists in an African capital.
Related news
Media 360° project evaluation
May 16, 2019
Between July 2017 and December 2018, CFI helped to consolidate traditional media outlets on the internet and on social networks, in eight French...