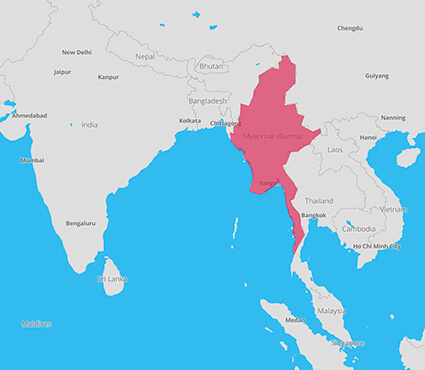 Presentation
The military coup d'état in February 2021, which resulted in the imprisonment of Aung San Suu Kyi and other members of the legitimate government, had devastating effects on freedom of expression and the media in general in Myanmar.
In the aftermath of this, in the light of the crackdown on the protest movement and the control of information, journalistic activities are no longer permitted. Fearing for their safety, many journalists had to leave the country, following the example of the major democratic media outlets.
Launched in partnership with France Médias Monde (FMM), "Kwanraat" ("network" in Burmese) is supporting some 20 exiled Burmese journalists by providing them with training and the opportunity to create mini documentaries analysing the factors that led to the collapse of democracy in Myanmar. These mini documentaries will then form the basis for a full-length documentary. An advocacy campaign led by the European Partnership for Democracy (EPD) will also be put in place to keep the return to democracy on the European political agenda. 
Project beneficiaries
10 exiled Burmese journalists based in Europe
10 exiled Burmese journalists based in Asia
Actions
Training
Face-to-face (in France or Thailand) and online training for journalists in exile.
Information
Filming and production of 12 mini documentaries in order to gather information and evidence concerning press freedom violations and the persecution faced by journalists and, more generally, the people of Myanmar under the military dictatorship.
An FMM team will use these mini documentaries as the basis for a full-length documentary.
Advocacy
Launch of an advocacy campaign directed towards the European institutions and developed and implemented by the European Partnership for Democracy.
An event to raise awareness within the European Parliament, including round table sessions and a screening of the full-length documentary.