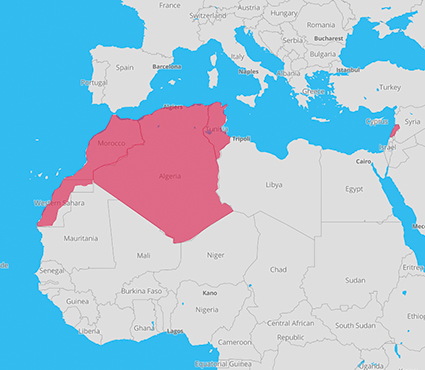 Goals
To promote the sharing of information and expertise for the purposes of the development of content in French.
To develop editorial formats that are innovative
To enhance access to this content via the use of social networks.
Presentation
While Arabic is the official national language in the Maghreb and in the Levant, Algeria, Morocco and Tunisia account for 85% of French-speakers in the Arab world, and in Lebanon almost 40% of the population is considered to be French-speaking. Multilingualism communicates a strong message of tolerance and openness to others.
In this context, Innovation MediaLab has set itself the objective of supporting Francophone media outlets in Algeria, Lebanon, Morocco and Tunisia over a period of 36 months. Each of these media outlets will be carrying out an innovative editorial project in French, in particular one aimed at those under the age of 15, at students and at young professionals, as well as at the business community. Francophone MediaLab is thus aiming to encourage the emergence of a new offering of French-language journalistic content in four Arab countries.
Innovation MediaLab falls within the scope of the "International Strategy for French Language and Plurilingualism".
Verbatim
"We need to acquire journalistic techniques and working methods to offer our young audience content that is both educational and entertaining."
Project beneficiaries
4 to 6 editorial projects, each undertaken by a private- or public-sector Francophone media outlet in Algeria, Lebanon, Morocco or Tunisia.
50 to 60 media professionals (managers, chief editors, journalists in the regions, developers, community managers, etc.).
30 to 40 new French-speaking editorial contributors.
10 to 12 French-speaking journalism students.
Actions
Selection of editorial projects and identification of French-speaking human resources to produce journalistic content in French
Selection of 4 to 6 beneficiary projects.
Organisation of forums and professional meetings between beneficiary media outlets and potential French-speaking contributors.
Identification of French-speaking human resources for producing journalistic content in French in Algeria, Morocco and Tunisia.
Organisation of a summer university and of an incubator workshop for the design of innovative content or formats, in French, aimed at 10-12 French-speaking journalism students from four journalism schools in the Maghreb and Lebanon.
Related news
Innovation MédiaLab: 5 selected media outlets
November 26, 2018
Following the call for applications and the shortlisting of ten editorial projects in October 2018, on 16 November, five digital media outlets...
Lmouhim de l'info – the Moroccan satirical newspaper
September 17, 2019
Since April 2019, MédiaLab Innovation has been supporting the production of an innovative French-language editorial offer in Morocco by backing...
Enhancing the journalistic skills of the teams responsible for the production of content
Training in data visualisation, developing interactivity with the public and the production of videos with a smartphone and an audio support.
Perfecting their French (in collaboration with the Instituts français).
Related news
Lebanese digital media outlet Labneh&Facts develops photojournalism format
March 8, 2022
In February 2022, Marie José Daoud, a journalist from the Lebanese digital media outlet Labneh&Facts, began working with Aline Deschamps, a...
Young Tunisian reporters take part in a workshop aimed at producing innovative content
March 22, 2022
This workshop, which was held from 14 to 18 March 2022 in Monastir (Tunisia), brought together 26 young reporters from five media clubs: Meteline...
To the ballot box, citizens! The new format of the French-speaking Lebanese media outlet, L'Orient-Le Jour
April 8, 2022
L'Orient-Le Jour sought to develop a new narrative form to cover Lebanon's general election, which will be held on 15 May. The editorial team has...
Yomkom, the Lebanese editorial offering for adolescents, is working on photo reporting
April 22, 2022
Since 4 April 2022, the four editorial contributors to the Lebanese digital media outlet, Yomkom, have been receiving training from freelance...
Support for and enhancement of the digital skills of the teams responsible for access to the content
Training in optimising the referencing of the website and in the use of social networks to promote virality.
Financial support for the digital technical developments necessary for the enhancement of access to the content of the editorial projects.
Related news
Innovation MediaLab – Opening seminar
February 10, 2019
Innovation MediaLab: Working to promote the production of innovative content.
Should the media be feminist?
March 6, 2020
Four journalists from Algeria, Lebanon and Morocco – all beneficiaries of the Innovation MediaLab project – share their thoughts on the role of...
Innovation MediaLab webinars: Nine monthly meetings to aid understanding of how digital solutions are now being used
June 4, 2021
Since March 2021, Innovation MediaLab project beneficiaries have had the opportunity to join monthly online sessions to discover the latest...
That's a wrap for Innovation MediaLab
July 8, 2022
The project, which provided support to five media outlets in the Maghreb and Lebanon for the roll-out of innovative narrative formats in French...