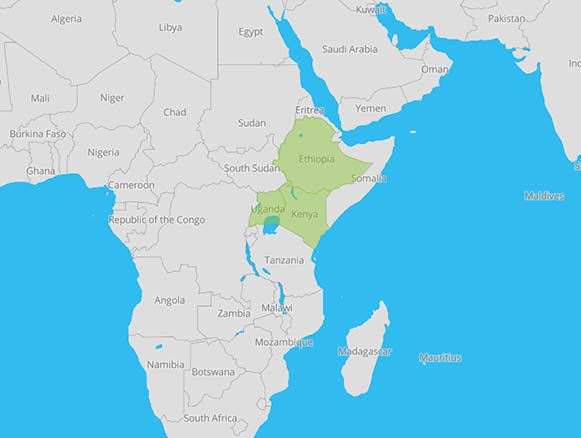 Presentation
The climate emergency now constitutes one of the most important global challenges of the next few decades. In sub-Saharan Africa, the rise in temperatures will have impacts in areas as wide-ranging and crucial as food security, access to water and health care and migration management, or even the prevention of regional conflicts and wars. African media outlets have a key role to play, not only in raising awareness, but also in educating the public on the challenges of global warming.
Following on from Terra Media and Médias 21, CFI is marking a new step in its support of East African media in addressing climate issues, by launching the Dunia project. Its aim is to raise awareness among media managers and journalists regarding the importance of integrating environmental issues into their editorial policies, to train them to carry out in-depth work on the handling of these issues and to report on them in all their aspects.
Verbatim
"This workshop gave me a lot of ideas for reporting. I can't wait to get to work!"
Project beneficiaries
Journalists and managers from12 media outlets of all kinds (radio, written and online press and TV)
Actions
Strengthening the role of media outlets as tools for monitoring, raising awareness of and engaging in issues associated with climate change
A consultation seminar bringing together media outlets selected following a call for applications, to understand the priority climate issues in the three countries and to reflect on the importance accorded to the media coverage of these topics.
Training in editorial management and on the basics of climate change and the main concepts associated with it.
Training course on investigative journalism in relation to these issues and remote monitoring of the investigative reports.
Fact-checking training to combat climate scepticism 
Related news
The climate emergency in Africa: what role should the media play?
February 24, 2020
At the seminar marking the launch of the Dunia project, which took place in Addis Ababa (Ethiopia) from 16 to 18 December 2019, journalists from...
Preserving Kenyan mangroves
December 21, 2020
On 15 December 2020, a dozen journalists benefiting from the Dunia project took part in a workshop on the impact of global warming and respect...
Investigative reports on environmental issues within African media
September 16, 2021
Journalists in Kenya, Uganda and Ethiopia received training in spring 2021 and now their first stories have just been published and aired.
In Kenya, journalists are warning of the effects of climate disruption
December 15, 2021
Deforestation, drought, pollution... Since the launch of Dunia in December 2019, several reports on the effects of climate change have been...
Encouraging dialogue between the scientific community and civil society
Workshops devoted to multi-actor debates and reflections.
On-the-ground training with scientists and civil society organisations.
Supporting media outlets in covering climate change in a way that promotes prospects for solutions and adaptation in line with the concerns of local populations
Raising awareness of solutions journalism.
Training on integrating the "gender" dynamic into the climate change response and adaptation strategies.
A competition to reward the best investigative and solutions reports.
Related news
Better Understand Global Warming in Africa with "The Climate Collage"
March 29, 2021
On 20 March 2021, in Nairobi, Kenyan Journalists Participating in the Dunia Project Attended a Thematic Workshop on the Causes and Consequences...
Investigative journalism to address climate change
April 28, 2021
Three training courses in investigative journalism on global warming issues were launched at the same time in mid-April in Ethiopia, Kenya and...
Training Kenyan environmental journalists on gender equality
December 15, 2021
A dozen Kenyan journalists from the Dunia project attended a dedicated training session on gender-sensitive journalism held in November and...
Noah Omuya: a journalist who tackles climate change with a passionate spirit
April 19, 2023
In a world where climate change remains one of the most pressing issues of our time, Noah Omuya, this Ugandan journalist, is determined to bring...