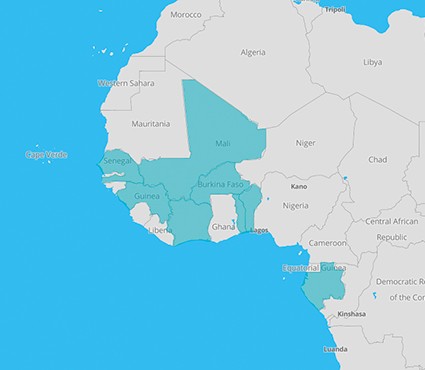 Goals
Harness the power of digital tools to contribute to young people's civic engagement and citizen control of public action in French speaking Africa
Improve the knowledge and understanding of civic tech
Enhance the ability of young people to network and implement and promote civic tech initiatives
Presentation
Civil society in French‑speaking Africa – journalists, activists and association leaders – is increasingly committed to taking advantage of the new opportunities offered by the development of digital tools and the trend of open data supported by a number of States in order to achieve clearer and more effective public action.
This growing commitment led CFI to launch the original Citizen Connections project in 2016 to help fifteen young people from French‑speaking Africa develop their digital citizens' projects. The training not only developed each beneficiary's skills – it also led to the creation of a community involved in disseminating the civic tech culture.
Digital tools are now available to help young active citizens take action. However, they still lack sufficient knowledge and an ecosystem to sustainably realise and share their initiatives, which is why Citizen Connections II is proposing to contribute to youth participation and citizen control of public action by promoting civic tech knowledge while enhancing the ability of stakeholders to implement and promote their initiatives. It is also an inclusive project with a strong ambition to promote gender equality.
Verbatim
A great moment of learning that gave me the tools to put myself at the service of my community and develop democracy through digital technology.
Project beneficiaries
- Young people providing digital citizens' solutions
- The potential civic tech user and producer base that is online in the target countries
- Public authorities, the media and civil society organisations (CSOs)
- People in the target countries receiving the civic tech
Actions
Organisation of one conference and development of an online civic tech community
Activities will also be organised in many countries.
The goal is to help create an environment in French speaking Africa in which existing ideas and experiences are valued in order to stimulate cooperation among civic tech stakeholders in those countries (project leaders, experts, public authority representatives, donors, investors, CSOs and media outlets).
Related news
Civic-tech is shaking up democracy in Africa.
July 6, 2022
Around one hundred "hacktivists for democracy" gathered in Abidjan on 28 and 29 June for the first civic-tech forum organised by CFI in French...
Alexandra Tchuileu Ngangom: an exacting and altruistic journalist
January 6, 2023
33-year-old Cameroonian Alexandra Tchuileu Ngangom is a passionate and exacting journalist, engaged in the community. She has conducted...
Project support and development for 50 project leaders
At the end of each of the two MOOC sessions, anybody leading a civic tech project in French‑speaking Africa aged 18 to 35 will be invited to apply to participate in the Citizen Connections incubation programme.
Particular attention will be given to projects that are led by women or tackle gender-related issues. The 8-month programme will include three week‑long collective incubation sessions in Paris and French‑speaking Africa and a local incubator and a mentor will also provide two days of support per month to help participants to develop their projects as they see fit.
A panel will convene at the end of the programme to award start-up funding to the projects it deems worthy. A first wave of 25 project leaders will be selected in spring 2021, followed by a second wave in spring 2022.
Related news
Citizen Connections – discover the 25 winners
March 16, 2021
A panel of civic tech experts selected the 25 young, innovative and committed project leaders who will benefit from an incubation programme to...
25 citizen and digital initiatives in French-speaking Africa which will be provided with support and guidance for eight months
September 7, 2021
For the launch of Citizen Connections 2, five bootcamps were held simultaneously in Abidjan, Ouagadougou, Bukavu, Antananarivo and Tunis from 14...
Citizen Connections 2: meet the 23 winners
April 22, 2022
A committee of civic tech experts selected the 23 young, innovative and committed project leaders who will benefit from an incubation programme...
Economic model and funding search on offer for the beneficiaries of the Citizen Connections 2 project
February 22, 2023
The beneficiaries of the second wave came together in Lomé, Togo, from 5 to 11 February 2023 for a workshop on project management.
Launch and delivery of a massive open online course (MOOC) dedicated to digital citizen-action projects in French speaking Africa (civic tech)
The course will be free and open to everyone. For six weeks, daily access to a new subject module with videos, resources and a quiz with the option to interact with other participants.
The first session for this MOOC will be launched in October 2020 with the second following in autumn 2021.
Related news
Citizen Connections: more than 500 applications received
January 8, 2021
Following the success of the Citizen Connections MOOC last November, which brought together 5,000 people, a call for applications was launched to...
A free massive open online course (MOOC) promoting citizen action in French speaking Africa
October 13, 2021
Buoyed by the success of the Citizen Connections online training course (MOOC) that brought together almost 5,500 French speaking Africans in...
Citizen Connections: more than 300 applications received
February 9, 2022
Following the success of the second Citizen Connections MOOC, the launch of which on 11 October 2021 attracted 5000 people to join, a call for...
The Citizen Connections project comes to an end for the 25 project leaders taking part
February 28, 2022
The bootcamp, which was held in Lomé (Togo) from 7-12 February 2022, marked the end of eight months of support for the young beneficiaries of the...