Misinformation surrounding the war in Ukraine
February 1, 2023
This content belongs to this project
Yak Vdoma
The French Minister for Europe and Foreign Affairs visits Yak Vdoma, the residence set up by CFI for independent Ukrainian journalists in exile.
Catherine Colonna, the French Minister for Europe and Foreign Affairs has be in Bucharest on Friday 27 January to visit the regional hub set up by CFI and France Médias Monde, with the support of the French Embassy in Romania. Specifically, she will visit the Yak Vdoma (like being at home in Ukrainian) residence, created to offer independent Ukrainian journalists affected by the war a supportive environment to continue their coverage of the conflict independently and safely.
A project promoting independent and reliable coverage of the war
In response to the Russo-Ukrainian War, CFI and France Médias Monde (FMM) came together to set up a regional hub to support independent journalists and enable citizens to access balanced and verified information about the conflict.
This project is broken down into two components:
- Yak Vdoma (Like being at home): an operational and editorial skill development and support component for independent journalists in exile, overseen by CFI
- RFI Ukraine: a second component that aims to support the production of a greater volume of reliable content covering the conflict and its regional impact, developed by FMM and RFI Romania.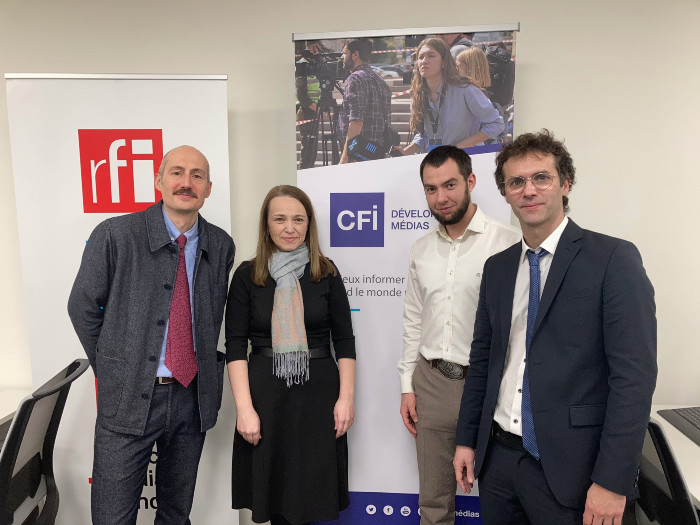 Yak Vdoma is part of a strategy to address the misinformation surrounding the conflict
Yak Vdoma supports independent editorial projects: stories, eyewitness accounts, which are responses to both the misinformation and the propaganda spread by certain media outlets acting as the mouthpieces for the falsehoods coming out of the Kremlin. The war has had a significant impact on the Ukrainian media landscape and left many independent media outlets without financial resources and many journalists unable to make a decent living from their profession.
To address the urgent need to provide shelter to the journalists from these media outlets, and women in particular, and help them to carry out their profession, CFI created the projet Yak Vdoma project.
Since April 2022, the French agency has been providing material, financial, logistical and psychosocial support, as well as a secure workspace to enable them to work on independent editorial projects and offer an alternative to the coverage provided by Ukraine's main media outlets. An ambitious training component is also offered to enable the Yak Vdoma beneficiaries to develop skills adapted to their new status as war correspondents.
The residence currently houses nine independent journalists for between three weeks and six months and is set to welcome 20 journalists over the course of its first year.