Malek Khadhraoui : Earning readers' trust was a challenge, and it's still the case today
Malek Khadhraoui, a Tunisian journalist and co-founder of Inkyfada, tells the story of this media outlet, founded in 2014 in the wake of the Tunisian revolution.
Inkyfada's launch was supported by Ebticar Media (E-Booster for Technical and Innovative Contents in the Arab Region), an EU-funded project, implemented by CFI, that raised sufficient financing to lay the foundations of this media outlet.
In the wake of the Tunisian revolution of 2011, Malek Khadhraoui felt the need to provide readers with more in-depth analysis and context than that available in the day-to-day media coverage of news and debates. The numerous institutional, economic and social challenges at this time of transition required explanations.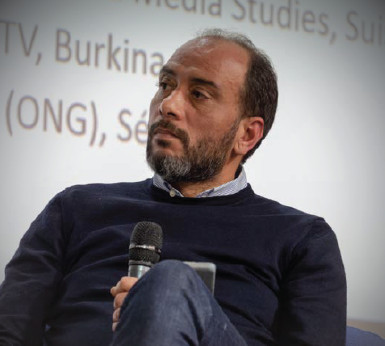 Malek pointed out that Inkyfada was born of a very clear need because, in 2011 and 2012, we moved from a time when there was no news and citizens couldn't express themselves, to an over-abundance of expression and channels for discussion. There was also a need to win readers over once more, as they no longer had any faith in local media.
The journalist emphasised that earning readers'trust was therefore a huge challenge, and it's still the case today.
From the outset, Inkyfada chose to focus on investigation and processing information, through surveys, online documentaries and grassroots reports, using clear graphics to present information. The major challenge for Inkyfada, has been to find its own economic model.Khadhraoui explained that "Our primary mission was to try to hold the political leaders accountable for their actions by taking a critical look at their decisions and the impact they have on the lives of Tunisian people.
Inkyfada strives to denounce all forms of discrimination, defending everyone's economic and social rights, personal freedom and respect for minorities, i.e. the demands that sparked the revolution. The media group also defends gender equality and has declared itself feminist, whilst tackling the border issue and migration crisis as well.
The major challenge for Inkyfada, and Tunisian media in general, has been to find its own economic model, without abandoning the principle of providing a free service that guarantees access to a wide audience, while also moving away from the model based on advertising and owned by businessmen which prevailed during the Ben Ali dictatorship. As its founder explained:
We have managed to solve the institutional problem, which dovetailed with the way the press was set up, by way of creating media outlets without any form of control. However, funding has now become a very real difficulty for media outlets.

Inkyfada has developed its own model, based on a set of services ranging from training to expertise, including media support and the development of journalism and communication tools. The second challenge, after a 23-year dictatorship, was to find people with the relevant skills and qualifications and a professional approach to journalism.
Today, Inkyfada is able to generate 70% of its funding requirements itself, with the rest provided by structural funding from international financial backers and donors. And the model works. After seven years of ongoing progress and an increasing rate of publication, this year the media group launched North Africa's first podcast platform.
---
Through the testimonies, portraits of journalists and the human adventures of our series Aswat Jadida ("New Voices", in Arabic), discover ten years of support for media development in the Arab world.