Fundraising, networking and partnerships on the agenda for D-JiI beneficiaries
From 15 to 17 March 2022, an online conference, moderated by France 24 journalist, Aziza Wassef, brought together project leaders from digital media outlets to provide them with training on these topics, prior to the implementation of an action plan.
During the opening session, European Union representative, Kristina Prunerova, praised the results and quality of the content disseminated by the media outlets receiving support, particularly You 22, She's got something to say and Men Lewwel.
She also stressed the importance of promoting these results in 2022, which has been designated the "European Year of Youth".
The various workshops provided during the conference were facilitated by experts, who provided specific theoretical content tailored to the specific features of the projects being supported. The experts also led group practical workshops.
The fundraising workshop enabled participants to familiarise themselves with the donor landscape and the various methods and financing opportunities available, and in particular to understand the different steps that a media institution must follow to guarantee sustainable resources. The networking sessions focused on identifying relevant networks and influential contacts, as well as on methods for effectively expanding networks with a view to increasing activities and audiences.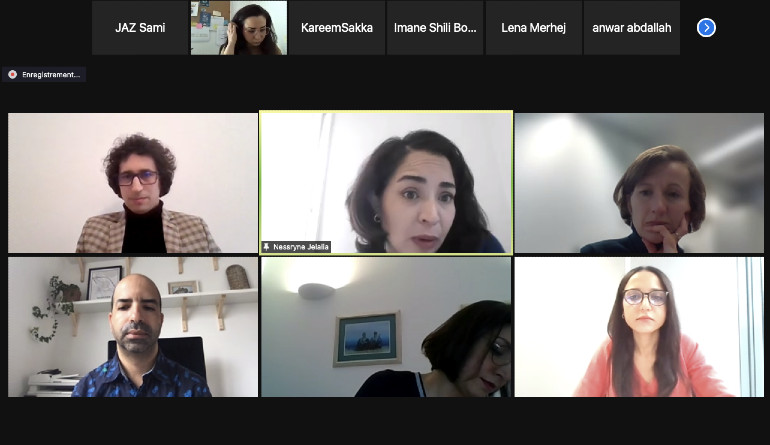 Building strategic partnerships
Finally, the experts provided key information for the development of strategic partnerships at local, regional and international level. Opportunities for partnerships between projects supported by D-Jil were also identified and widely discussed.
Project leaders will also benefit from personalised support in these areas after the conference to help them to draw up an action plan. As was the case for the fifth incubation session, the results of this conference will be evaluated during the subsequent activities.
At the end of the conference, time was set aside to discuss the preparation of the next two activities: the final incubation session and the closing conference, planned for May and July 2022, respectively.
---
Co-financed by the European Union and supported by CFI, in partnership with the Samir Kassir Foundation, FMAS and ERIM (formerly IREX Europe), the D-Jil project aims to use online media to foster active citizenship and autonomy in young people in nine Arab countries