A free Syrian radio station broadcasting from Paris
For 8 years, Radio Rozana has given Syrian people an opportunity to have their say, garnering reports from a network of male and female correspondents in Syria, who have provided daily eye-witness reports on the war.
Created in 2013, Radio Rozana is a self-declared independent media outlet that refuses to perpetuate biased information from political parties or armed groups.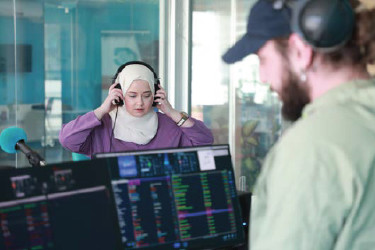 Before they started broadcasting, several people attended a training course in Gaziantep, Turkey, on how the production of well-balanced news. Executive Director Lina Chawaf and co-founder of the radio station, explained that they were a group of Syrians who believed in the media as the path to change, further stating that Impartial, unbiased reporting lends more credibility to the cause.
Along with the Danish cooperation agency IMS (International Media Support), CFI supported the creation of this online radio station based in a Parisian apartment, providing assistance with logistics, security and team training.
Before 2011, nobody was aware of the massacres. Thanks to the work of Syrian journalists, now everyone knows what happened in Syria.

Radio Rozana provides fact-checked information, concentrating above all on societal and human rights Issues. It recounts real-life stories, and success stories. With this citizen-centred approach, the station reaches a wide audience of people with diverse personal opinions, reaching across political divides.
The radio station has been flooded with hate speech from armed groups and especially the Syrian regime, which have sometimes accused it of being a revolutionary media outlet, yet Chawaf 's stance is that it is crucial to tell the truth no matter what.
There are specific programmes aimed at women, to give them a voice in a society where they are voiceless, and some focus on children. Others are dedicated to sharing opinions with the aim of listening to, accepting and talking with each other.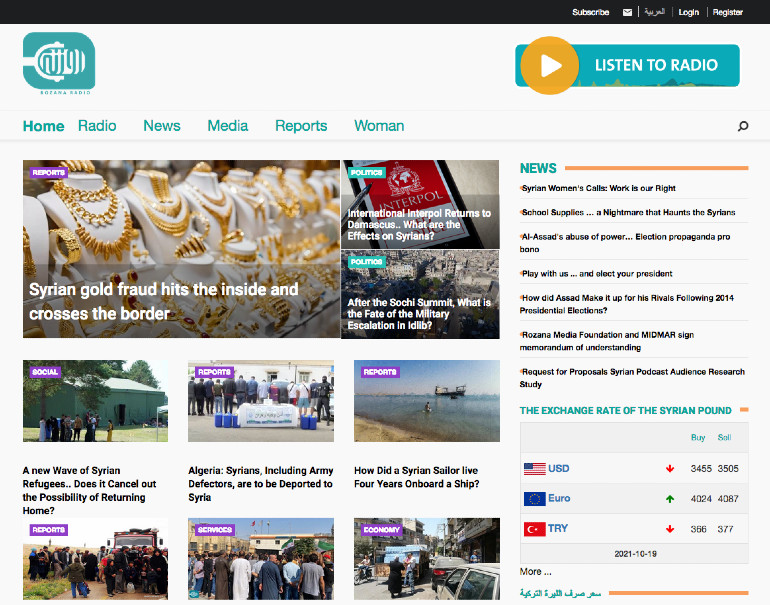 ---
Chawaf conducts in-depth background work on her editorial choices, in order to educate future generations of Syrians. You can't demand freedom unless you let your daughter have an education too. During the Arab Spring uprisings, a lot of young people demanded freedom but, at the same time, were denying their sisters that same freedom.

This was a contradictory and confusing situation. It is the reason why we must change Syrian society from within. The journalist concluded with a smile that this is sure to take generations, but we can at least start by planting seeds for the future.
The content they produce is broadcast on several platforms: in audio format on the radio, in online articles and sometimes in video format for certain programmes on Facebook and YouTube.
---
Through the testimonies, portraits of journalists and the human adventures of our series Aswat Jadida ("New Voices", in Arabic), discover ten years of support for media development in the Arab world.