Final D-Jil meeting
July 25, 2022
This content belongs to this project
D-Jil
The closing conference of the D-Jil project was held from 1 to 3 July 2022 in Beirut. An opportunity to take stock of the support provided to digital media outlets aimed at young people in the Arab world over the last four years.
Over the course of the event, organised by CFI in collaboration with the Samir Kassir Foundation, project owners presented their results along with the difficulties and challenges encountered. Q&A sessions were held to allow the participants to share their experiences and gather suggestions to ensure the sustainability of their initiatives.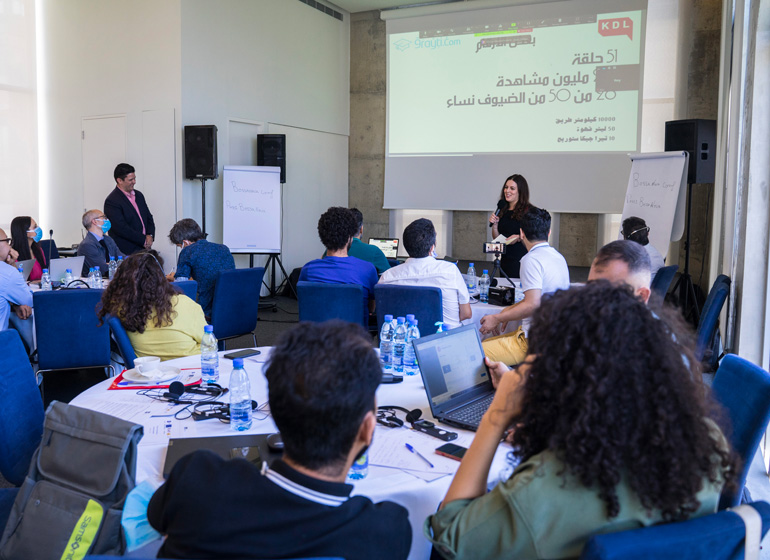 As part of a "digital security clinic", private sessions were held to enable them to partake in discussions with an expert about issues associated with digital security, so as to obtain concrete solutions adapted to their needs and the context of each country. Four subjects linked to their projects were also discussed with the experts: podcasts, design, digital marketing and the innovative economic model. 
Launch of a "D-Jil network"
The third day of the conference was dedicated to the presentation of results. The FMAS presented the conclusions of the study carried out on the digital presence of the projects supported, together with a "guide of best practices", while ERIM presented the results of the workshops on information and media education in collaboration with local partners. The FSK presented the country-specific conclusions of the focus groups on the monitoring of content produced by the project owners.
Finally, the meeting was closed with the launch of a network comprising all the media outlets that received support as part of the D-Jil project, with the presentation of a prototype platform as a suitable technical solution.
Ghada Khalil, a journalist from Monte Carlo Douliya, covered the event with 11 interviews carried out on site and broadcast on 9 and 10 July 2022 as part of the "Café chaud" programme, which is aimed at young people.

Co-financed by the European Union and supported by CFI, in partnership with the Samir Kassir Foundation, FMAS and ERIM (formerly IREX Europe), the D-Jil project aims to foster active citizenship and autonomy in young people in nine countries of the Arab world through online media.