Dream FM: "The dream of an independent media outlet of value to citizens"
November 16, 2021
In Tunisia, there are few local media outlets, with the major national outlets dominating the media scene. Mohamed Taieb Chmengui, who founded a local citizen radio station in Kairouan called Dream FM, wants to overturn this situation.
Dream FM came into being in 2016 as a community radio station, broadcasting about cultural, political and social matters, all over the Governorate of Kairouan. In this region, radio is still a vital means of communication and the most suitable vehicle for raising public awareness.

Dream FM soon started developing as a local media outlet, as explained by founder Mohamed Taieb Chmengui: "To guarantee freedom of expression, we need diversity of information. That's why we wanted to make space for debates and discussions, which you have no chance of finding in the national media."
By joining forces with various local and international partners such as CFI, volunteers managed to deploy their media coverage, in particular during the 2019 legislative elections. Thanks to the agency's financial and strategic support, radio ads were created to encourage citizens to vote and to organise debates between the different candidates in Kairouan. At the start of the pandemic, Dream FM embarked on data-driven journalism, to make news about the pandemic more accessible using infographics.
In the shorter term, Taieb Chmengui intends to switch the media outlet to digital, thus providing the entire Tunisian population with access to free citizen news.
I've always thought radio is more than mere entertainment, with potential to change the world.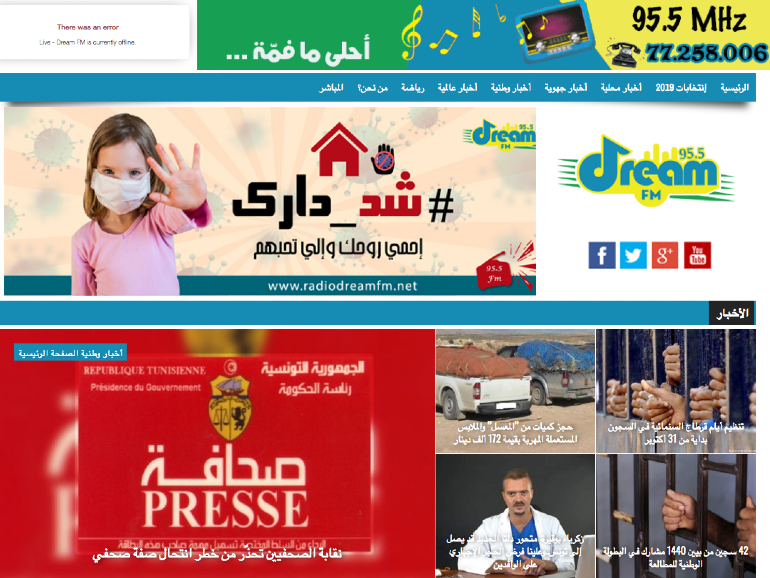 Today, over 26 student and activist volunteers from civic society strive to make Dream FM a reality. It is a mission that these young people fully intend to see through to the end, despite the difficulties encountered in a country like Tunisia, in the midst of democratic transition.
"While Tunisia may still be one of the Arab countries where freedom of the press fares best, it will take time for the media to gain true independence. The Arab Spring uprisings of 2011 sought democracy and this is only possible if there is an independent press. Dream FM represents our dream of creating an independent Chmenguimedia outlet of value to citizens. But nothing can be taken for granted; it's a daily challenge", the journalist concluded.
---
Through the testimonies, portraits of journalists and the human adventures of our series Aswat Jadida ("New Voices", in Arabic), discover ten years of support for media development in the Arab world.