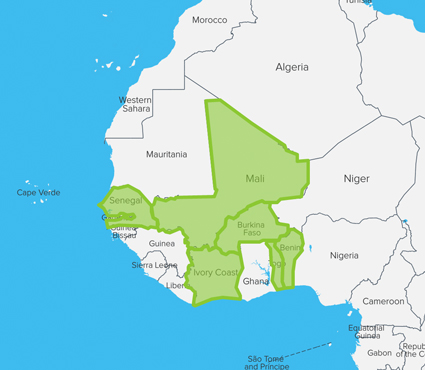 Goals
Combat the spread of the Ebola epidemic
Train journalists in the production of health programmes tailored to local cultural specificities
Identify and train local trainers to pass on what they have learned to other journalists
Presentation
In January 2014, an outbreak of Ebola haemorrhagic fever hit a number of countries in West Africa. Emergency measures have been taken in the countries affected to bring relief to people suffering from the virus and inform the general public about the disease.
Six neighbouring countries are potentially exposed to the spread of the epidemic, especially in their rural border areas. National prevention campaigns have been launched and some borders have been closed. But despite these measures, misinformation and rumours persist on the ground, one major problem being mistrust of medical personnel. Against this background, after consultation with MSF, UNICEF, anthropologists and radio federations, the "Radio against Ebola" project was launched to support the work of local media in their mission to raise awareness and protect the health of communities.
In collaboration with traditional leaders and medical authorities, in addition to the local information campaign, participating stations include in the health messages they broadcast a cultural dimension to address the specific concerns of their listeners. Respectful of local traditions and customs, these programmes serve as a forum for dialogue and are effective in helping people to change behaviour that could put them at risk.
The training is designed primarily for radio stations located in the areas most exposed to the risk of contamination. To raise awareness among as many radio stations as possible in the region, journalist trainers are identified and trained to work in local radio networks.
Verbatim
"The Radio against Ebola project came at a time when radio professionals needed credible information from good sources and seasoned trainers. The organized training made it possible to share, with trainers and participants, all the work of Ebola prevention and control that is implemented at the national level."
Project beneficiaries
48 journalists selected from 6 countries, 12 of whom are earmarked as trainers
Journalists trained by local trainers within federations
Listeners of local radio stations in border areas and, more generally, the listeners in the countries concerned
Actions
Training in the production of a health-based magazine show focusing on Ebola
In collaboration with local radio federations, eight journalists, two of whom will themselves become trainers, are trained for two weeks in each of the six countries involved in the project.
The first few days of training focus on learning about the disease and consultation with traditional leaders and representatives of the national action committee against Ebola.
The aim is to disseminate clear, reliable, responsible information about the virus, how it is transmitted and how radio can work with health authorities and traditional leaders.
The journalists then receive training on specific aspects involved in the production of a health-based magazine programme, with an emphasis on the need for consistency between the messages conveyed and both national prevention campaigns and local rituals and traditions.
Related news
Launch of the Radio against Ebola initiative
November 3, 2014
A CFI project in partnership with radio associations and federations in six West African countries
Training future trainers
After the initial session, the journalists who are to become trainers receive more specialised training for a further two weeks and learn how to themselves run training courses in the production of a health magazine.
The criteria sought in these local trainers are proven journalism experience, familiarity with medical issues, knowledge of local traditional environments and the ability to pass on knowledge.
Organisation of training by and within local radio federations
Radio federations take care of the organisation of training courses run by the local trainers to pass on their knowledge to other radio stations in the countries concerned. They request funding from local donors, with the support of CFI.