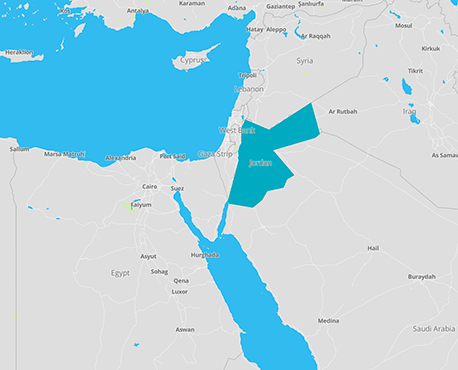 Presentation
In the wake of the Arab Springs, Jordan has been implementing a series of constitutional and political reforms aimed at building a "dynamic democracy". These reforms are based on progressive consolidation of the parliamentary system, active citizen participation and the strengthening of political parties. In line with its strategy for promoting the rule of law, the European Union (EU) has launched a programme in support of this reform process in Jordan.
This is the context behind the project entitled JDID (EU support to Jordanian Democratic institutions & Development)– meaning "new" in Arabic – allocated by the EU to the European Centre for Electoral Support (ECES), in a consortium with European Partnership for Democracy (EPD), Westminster Foundation for Democracy (WFD), Netherlands Institute for Multiparty Democracy (NIMD) and CFI. Over the course of 4 years, it is to be implemented in collaboration with the Jordanian Chamber of Representatives, the Independent Electoral Commission, political parties and civil society organisations.
As vectors of transparency and citizen information, the media play a crucial role in the democratic process. The media segment of the JDID, implemented by CFI, includes training political journalists and also raising the awareness of elected representatives to the need to communicate with the media. It also provides support to the independent electoral commission in setting up a unit to monitor election and ballot coverage by the media.
Verbatim
"The training made me pay attention to credibility, objectivity, neutrality. I learned how to use numbers and analyze them, choose experts and present the context well."
Project beneficiaries
Jordanian Chamber of Representatives
Jordan Independent Electoral Commission
Political journalists based in Amman and provincial governorates
Jordanian parliamentarians
Actions
Support for the reform of the Jordanian parliament
Seminars providing information about the Jordanian political system and training courses in how to cover political and parliamentary news
Creation of a media centre within the Jordanian parliament
Online kit for covering political news
"MP to people": interactive radio programmes
Related news
Call for applications: Radio journalism expert / self-employed individual
February 2, 2018
CFI is seeking for a Radio journalism expert (consultant, self-employed) for a project in Jordan.
Call for applications: a political journalism in Jordan
February 4, 2018
CFI has just launched a call for applications for trainings in political journalism in Jordan, as part of the EU-JDID programme funded by the...
Call for application - "MPs to people" radio programs
May 3, 2018
CFI is launching a call for application targeted at Jordanian media organization, to support production and broadcasting of interactive political...
'Le Parlement': a Jordanian podcast bringing citizens and Members of Parliament together
March 7, 2019
Within the EU-JDID programme, CFI provides support for the production of a political audio programme titled Le Parlement [Parliament] that brings...
Call for applications: Pravo-Justice Assistant-coordinator
February 24, 2020
CFI is recruiting a Assistant-coordinator in Ukraine.
Interactive programmes to foster dialogue with Members of Parliament
November 16, 2021
Following on from the Arab Spring, Jordan has undertaken a series of constitutional and political reforms aimed at constructing a dynamic...
Electoral assistance
Training in the coverage of electoral news
Establishment of a unit for monitoring the media within the Independent Electoral Commission for covering campaigns and elections
Related news
Covering political news: Jordanian journalists in training
April 23, 2018
A series of training courses in political journalism was launched in February 2018.
Preparing for the upcoming elections in Jordan
December 13, 2019
At the end of November 2019, more than 250 Jordanian journalists from both the country's capital, Amman, and the provinces were trained on how to...
Journalists in Jordan undergo training on how to cover 2020 elections
February 10, 2020
In light of the parliamentary elections taking place in Jordan in the second half of the year, EU-JDID is offering advanced training in election...
Forum
Forum on the topic: "Social networks and politics".
Related news
Jordanian students cover the Forum on Social Media and Politics
March 6, 2019
On 21 and 22 January 2019, in partnership with the Center for Strategic Studies of the University of Jordan, CFI organised a forum on the topic...
Social networks and politics in Jordan
March 6, 2019
On 21 and 22 January 2019, a conference took place on the topic of "social networks and politics" in partnership with the Center for Strategic...