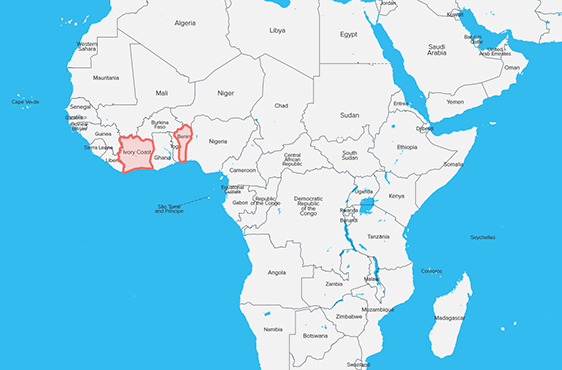 Goals
To adapt managerial organisation, decision-making processes and human resources training for the transition to DTT
To scale up and to make best use of RTI's production techniques
To improve and to drive forward the media advertising market environment by creating an audience study tool in Côte d'Ivoire
Presentation
The switchover to digital terrestrial television ( DTT) is set to reshape the audiovisual landscape all over the world: new broadcasters will come into being and traditional TV stations will experience keener competition in terms of access to and sharing of an advertising market with high growth potential. Traditional channels have to prepare for this by modernising their production and broadcasting tool and by reorganising their general and sectoral management.
Recommendations from the International Telecommunication Union ( ITU) and the African Telecommunications Union (ATU) initially stipulated that the transition to DTT in sub-Saharan Africa had to be completed by no later than 17 June 2015.
But there have been a number of delays. Migration away from analogue has now been extended to 2020, which offers traditional channels additional time in which to consolidate their structure, to cultivate collaborations, and to present a consistent, persuasive offering in terms of profile, reputation, image, appeal and audience. This transition is thus an aspect that should concern all professionals in the sector (the authorities, producers, broadcasters, publishers, assigns, advertisers, and so on).
This project monitors how the change is progressing, at the request of television stations and regulatory authorities. It will be active in the following areas:
- in the case of television stations, it will assist in the audit and review of RH approaches and techniques with a view to promoting greater fluidity, motivation and efficiency in the organisation of decision-making (flowchart management, delegation of tasks, project management, direction of innovation, circulation of information, etc.) ;
- assistance in improving RTI's (Côte d'Ivoire) production tools for rationalisation of its procedures, better positioning of its editorial line, restructuring of its programme schedules, maximising its resources and reducing its costs ;
- assistance in the creation of a reliable, acknowledged audience measurement tool with a view to facilitating the development of television and/or radio stations and encouraging advertisers to increase their advertising investment.
Verbatim
Our programming teams have always been self-taught and we have been hoping for this training for a long time. It allowed us to learn best practices and answered many questions about the grid. We also understood how programming must be a locomotive for other services and not the other way around.
Project beneficiaries
Broadcasting channel decision-makers,
Managers and staff of Programme Services,
Scheduling & Production,
TV & web journalists.
Actions
Preparatory study & Audit
Benin and the Seychelles: implementation of an audit of the broadcaster, focusing on issues of media management. The audit must define the scope of action of a mentoring and/or restructuring plan, the implementation of which will fall within the remit of the partner.
RTI: critical analysis of procedures, detailed study of production and filming listings; audit of programme schedules.
Modern management technique training
The aim is to enhance managers' familiarity with different ways of organising decision-making and responsibilities within the channel's "pyramidal" flowchart.
Assisting structural reorganisation
Re-examination of the current flowchart and analysis of whether it is suited to current - and future - requirements of the broadcaster, proposal of structural modifications, annual evaluation schedule, creation of digital RH database, organisation of regional offices, etc.
Content & scheduling marketing training
Training in the fields of content marketing, setting up a programme schedule, trailer management, etc.
Detailed audit of the Production Service and Programmes and Scheduling Service with a view to drawing up a new flowchart for the two services and a new workflow (chain of responsibility/daily operation) for production, scheduling and programme broadcasting.
Detailed analysis of the current RTI2 schedule and proposals for improvement, with a view to setting up more controlled scheduling that is more accessible and more efficient, together with, in Côte d'Ivoire, the integration of competition from its big sister, RTI1.
Related news
Boosting programming efficiency
March 2, 2017
Staff from RTI (Radio Télévision Ivoirienne) were given an introduction to the latest programming techniques on a course offered between 21 and...
Study production filming
On the basis of an existing flagship programme or a new programme project, this training scheme aims to provide in situ training for all personnel in modern study production filming: installation, camera placement, lighting, composition, switching, etc.
Improvement of existing broadcasts and creation of entertainment programmes
Training teams in the creation of new study productions: conception, development, evaluation of requirements, setting-up, production of a pilot, etc.
Training in techniques of entertainment conception: evaluation of objectives, development, writing, cutting, forecasting needs, pilot production study, etc.
Related news
Côte d'Ivoire: Designing and launching new programmes
March 2, 2017
From 6 to 10 February 2017, ten or so members of the RTI 2 (Côte d'Ivoire) TV channel were given training in the design and launch of new...
Training video journalists and improving the quality of on-the-ground reporting
Training in the techniques of filmed reporting (video journalist): understanding a set subject or one based on initiative, choosing an angle, deciding on cutting, framing (familiarity with camera, interview, illustration techniques), writing the script, making comments, etc.
Related news
Skilled use of infographics in news provision
March 2, 2017
From 21 to 29 November 2016, journalists from RTI (Radio Télévision Ivoirienne) completed a training course devoted to infographic design as...
Study prior to creating an audience measurement tool
In Côte d'Ivoire, a study aimed at garnering opinion and seeking advice across the industry on this issue: the authorities (HACA, Advertising Higher Council), broadcasters, producers, consultancy agencies and advertisers.
The conclusions should make it possible to confirm whether the creation of such a tool is desirable and under what conditions (technical, legal, financial) for players in the sector.
Consultation with the HACA in the drafting of the terms of reference for an invitation to tender in respect of audience measurement
In the event of agreement with operators in the sector, the HACA will launch an invitation to tender for selection of the undertaking responsible for all or part of the studies, for a specific duration and choice of technique (telephone survey, face-to-face survey, chosen panel, duration of the survey, etc.).