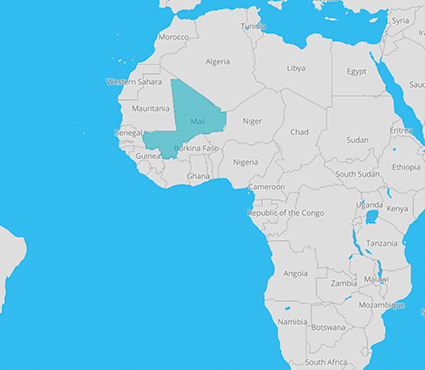 Goals
Improve the technical and editorial skills of journalists to provide election coverage that is professional, pluralistic and relevant to the people
Deliver local news which focuses on issues of concern to the public
Promote reconciliation and peace in the aftermath of war
Presentation
In preparation for the local elections – originally scheduled for April 2014 – this project is working with regional branches of the Malian state broadcaster and a selection of community radio stations to educate journalists on election issues. Owing to their closeness to the public, these media are in fact an essential means of mobilising voters.
After a theoretical overview of the role of institutions and the organisation of the vote, the training focuses on the tools and techniques available to journalists to contribute to the democratic debate.
By reflecting on the part they play in raising awareness and educating the public, local media can better meet the expectations of their listeners and contribute, more generally, to the process of reconciliation in the country and easing tensions between communities.
Project beneficiaries
The television journalists from ORTM's regional branches
10 community and associative radio stations from across Mali, selected on the basis of geographical representation
Actions
Training radio journalists to lead public discussions
10 editors in chief of community radio stations are trained in how to lead public discussions on the eve of local elections.
The training covers the definition of discussion topics, rules and principal professional techniques.
Two discussion categories are addressed: discussion of a theme and face-to-face discussions.
Training television journalists in reporting
10 television journalists from ORTM regional branches receive training in delivering reports on local issues (waste management, transport).

Training television journalists to lead public discussions
10 journalists from ORTM regional branches receive training in leading public discussions