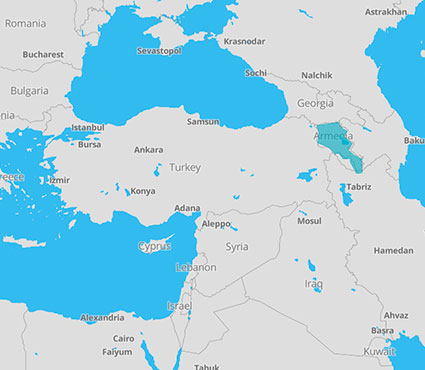 Presentation
Between March and May 2018, tens of thousands of Armenian citizens took part in mass civil disobedience demonstrations to protest against economic inequality, nepotism and corruption. Led by the opposition MP Nikol Pashinyan, this so-called 'Velvet Revolution' resulted in early parliamentary elections being held in December 2018, which gave a large majority to his 'My Step' Alliance.
Nikol Pashinyan's accession to power has brought a reinvigorated sense of freedom to the Armenian media. However, owing to the absence of any regulations in the sector, news websites that do not abide by journalism ethical standards are becoming increasingly commonplace. Moreover, in order to provide news to the country's citizens, most of whom are very familiar with the internet, the media must enhance the multimedia content that they offer and focus on subjects that are more in tune with their target audience's lives and concerns.
To support the Armenian media in this period of democratic transition, CFI launched Ants'um (meaning 'transition' in Armenian) in mid-2019. The initiatives of this 18-month project are focused on legal journalism, solutions journalism and combating fake news, with particular attention being placed on how the media deal with issues relating to gender equality.
Project beneficiaries
Journalists working for online media outlets and public television channels
Parliamentarians in charge of the discussions for structuring the media sector
State University journalism teachers
Students at the Tumo Center for Creative Technologies
Actions
Online journalism training courses
Online journalism training for teachers at the Faculty of Journalism.
Training provided to TUMO Center students relating to the basics of the profession, as part of a project to set up an online media outlet for making the voices of young people heard more effectively.
Related news
In Armenia, journalism teachers are training in digital skills
January 17, 2020
In late December, nine teachers from the Yerevan Faculty of Journalism attended a training the trainers course focusing on online journalism.
Hetq will offer training in investigative journalism from September 2020
June 2, 2020
Sessions to train the trainers were held in April and May 2020 to help three online media journalists from Armenia design and deliver training...
Mentoring the media
Workshop on online media business models for around a dozen journalists and media managers.
Customised support for six media outlets (Hetq, Civilnet, Mediamax, Armenia's public television channel, EVN Reports, Le Courrier d'Erevan), through training courses dedicated to optimising the use of social media, mobile journalism, video animation and editing, archive development, monetisation, etc.
Related news
Armenian journalists trained in storytelling
February 8, 2021
Between 25 January and 5 February 2021, a group of around ten journalists from the online newspaper, Hetq, benefited from a ten-module distance...
In Armenia, public television is preparing to monetise its archives
December 14, 2021
Over the last few years, the public TV channel, Armenia 1, has rolled out an extensive programme for digitising its archives. In November 2021...
Training courses for producing different content
Workshops on legal journalism to produce content focusing in particular on women's access to justice and the handling of cases of domestic violence brought by women.
Workshops on solutions journalism, with a special focus on the enhancement of initiatives led by Armenian women.
Supporting the production of multimedia content in partnership with 'RFI parle arménien' (RFI speaks Armenian).
A workshop on fake news for journalists and parliamentarians.
Related news
Civilnet takes on a new challenge: developing and producing podcasts
October 28, 2021
Five journalists from the Armenian online media outlet Civilnet are receiving training on how to develop and produce podcasts.
Participation in events
Invitations sent to around ten Armenian journalists to attend the International Journalism Conference in Tunis in October 2020.
Study trip to France for the Armenian parliamentary group in charge of the discussions on media regulation, in order to support the ongoing discussions on the definition of a public media policy in the country (media independence, pluralism, status of public media outlets, combating fake news, etc.).