The Tunisian press agency's goals
November 16, 2021
In Tunisia, the media sector has undergone profound change since the Arab Spring uprisings, putting citizens' democratic aspirations into actual words. Since 2013, CFI has been assisting with the changes introduced by the press agency Tunis Afrique Presse (TAP) as part of a set of reforms aimed at turning the state media into a true public service.
TAP boasts a vast network of regional correspondents in over 20 offices spread throughout Tunisia. It releases news dispatches in Arabic and French as well as producing photos, thanks to journalists covering the entire Arab region. Keenly aware of the interest and value of local news to its media customers, in 2013 it decided to diversify its services and improve the quality of its editorial content.
Its stated goal is to become a multimedia agency, whilst remaining the main news source in Tunisia.
CFI suggested auditing the agency, focused on three key themes: moving to a public service media outlet, setting up a multimedia production system and promoting its own resources with a view to financial independence. An internal debrief was then given on the audit, conducted by two experts from the French press agency AFP. They issued several recommendations, in particular guidance on compiling a handbook for agency employees.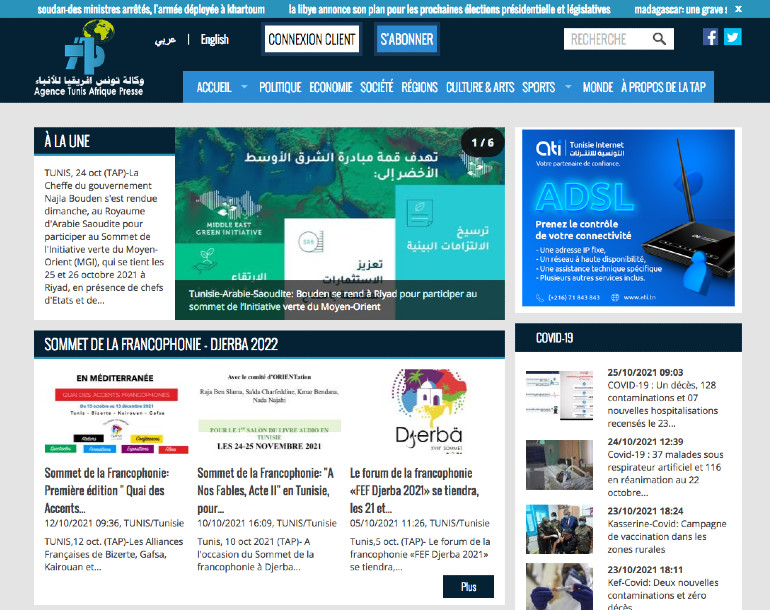 "This course helped me improve my report writing skills and add variety to my articles, while giving them a lively, human touch, very different from just writing news in a plain, unrefined manner."
Monia Trimeche, Manager of the Monastir regional office.

The compilation task was entrusted to a team of TAP journalists, overseen by an AFP chief editor. Between 2013 and 2017, TAP also benefited from training courses on marketing, local reporting and investigative reporting for the journalists from its regional offices.
In late 2017, two experts carried out an assessment of the news obtained from regional sources and posted on the agency's website. The aim was to enhance the value of the content produced by journalists in its offices throughout the country.
---
Through the testimonies, portraits of journalists and the human adventures of our series Aswat Jadida ("New Voices", in Arabic), discover ten years of support for media development in the Arab world.