Six months of production support
for around 60 radio stations in the Sahel region
Since the start of July, 63 MediaSahel partner media outlets have received production support. Lasting six months, this support aims to encourage them to produce programmes aimed at young people and to improve the quality of their content.
The production support forms the last stage of the project, following the various training sessions run in this vein. "It will enable the media outlets to improve the quality of their productions and innovate with new content," explains Célia d'Almeida, one of the trainers supporting the radio stations in Mali. "Our role is to provide post-training follow-upto ensure that the skills and knowledge acquired can be adapted in line with the realities within the outlets," she continues.
The trainers will support their trainees remotely in real-life situations to address any shortcomings. "The programme ideas are sent to us via WhatsApp. We discuss the subject and the relevance of the angle together before they fill in the programme forms. These enable us to follow up more efficiently, by showing how the programme will highlight interactivity and the participation of young people at production and broadcast level," explains Célia d'Almeida.
Two programmes per month dedicated to young people
Each beneficiary radio station must produce 12 programmes over a six-month period, i.e. two per month, focusing on youth issues. "We have already produced four programmes on domestic violence, divorce among young couples, female migration and farmer/livestock breeder conflict. That leaves us with eight programmes to produce before the end of the year," explains Hamidou Yacouba, from Zumunci FM Danbarto in Niger.He goes on toadd: "These programmes are hosted by journalists who took part in training sessions on interactivity, the fundamentals of journalism, etc."
For Hélène Sebogo, Director of RTB Dédougou in Burkina Faso, the production support brings added value to the content produced by her radio station: "The support from the coaches is very welcome, as they cast a professional eye over everything we produce and have encouraged us to include the subject of gender in our programmes." In addition to the support in terms of quality, she also appreciates the financial aid that comes with this support. "Our programme is now steady," she says, happily.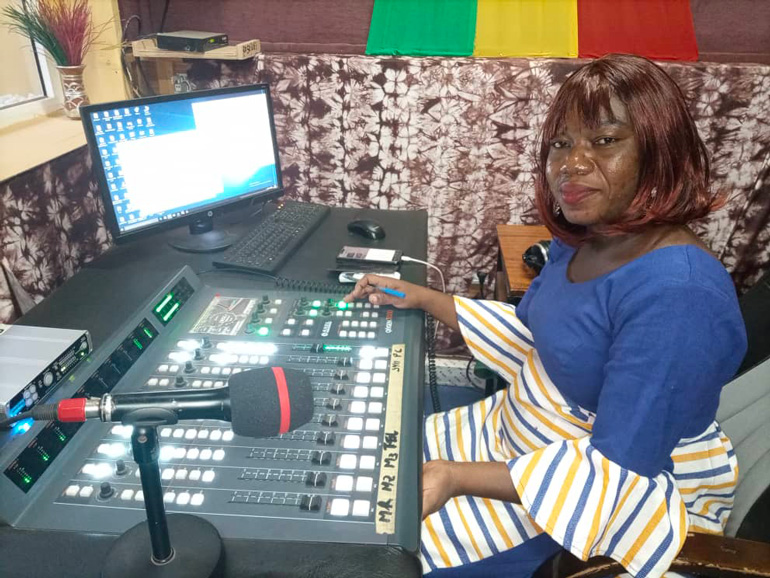 Taking stock, Hélène Sebogo is very satisfied: "Since 2020, our employees have taken part in various training sessions run by the project. These skill-building sessions have helped to improve their level, which is reflected in their daily performance." As if to prove the success, RTB Dédougou took home an award at the radio competition held by MediaSahel. "We were the winners in the "information programme" category!" she says, enthusiastically.