Radio broadcasts give a voice to the young people of Kairouan, Tunisia
On 18 March 2022, in conjunction with the Tunis International Journalism Conference, the team at Tunisian radio station Dream FM held the closing ceremony of their project "Voix des Municipalités-Jeunesse" ("Voices of the Municipalities—Youth"), sponsored by CFI.
The aim of this project was to create opportunities for dialogue between representatives of municipal councils and their young citizens, in addition to involving these young people in the local life of the Kairouan Governorate. Between January and March 2022, radio broadcasts were produced and transmitted to explain how municipalities work and inspire discussion around the development of municipal work and allowing the concerns of young people to be heard. Alongside this were awareness ads encouraging young people to get involved in local life. In five Kairouan Governorate municipalities, workshops were held to give young people a platform and a content production competition was also run for young people based on themes related to local affairs.
Representatives from the five municipalities participating in one of the activities and the content production competition winners were present for the project's closing ceremony held in Tunis. Mohamed Taïeb Chmengui, Dream FM founder, and the radio station team presented the results and confirmed that the project had generated momentum and interest, particularly among representatives from other Kairouan Governorate municipalities, who were keen to host future workshops.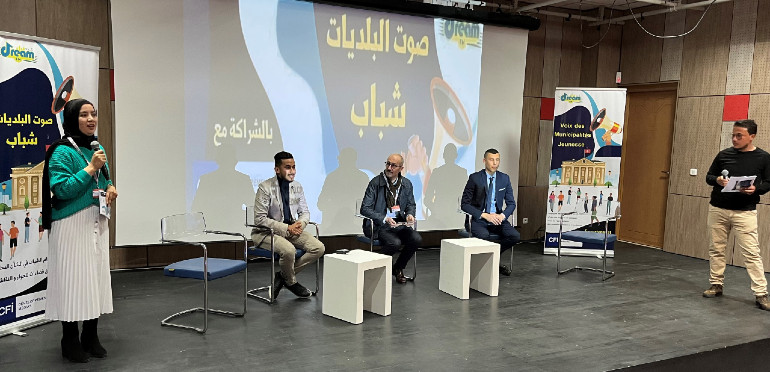 The Dream FM teams took full advantage of their attendance at the conference by also setting up a temporary radio studio at the City of Culture to capture the very latest from the event. Over the three days, the journalists produced several broadcasts that were transmitted across Greater Tunis via FM radio thanks to a broadcasting licence issued for the event by the Office National de Télédiffusion (the national broadcasting office of Tunisia).