A new app for fact-checking training
April 8, 2021
CFI is launching "Let's combat misleading information", an app designed in partnership with France 24 Observers, which is based on the LAFAAAC* mobile training app.
This app offers a training course on the detection of misleading or deliberately biased information and fact-checking techniques (verifying information and correcting it in the event of an
error - or misleading information - being detected).
It was given to the 19 Ivorian and Burkinabe journalists supported by CFI, and supplements the training and coaching on production that they received in 2020.
An innovative app for fact-checking journalists
"Let's combat misleading information" offers journalists a comprehensive training course on the basics of fact-checking. This course, accessible via mobile and computer, consists of a set of five modules that can each be completed in one hour.
These mainly cover techniques for analysing and dissecting photos or videos and the content that is broadcast on social networks.
The accompanying educational elements were designed by the team of journalists specialising in fact-checking at France 24 Observers, who have provided their expertise to create a fun and comprehensive app.

Journalists from African fact-checker media outlets such as AfricaCheck and CongoCheck also joined in to provide their testimonies and insights through videos
Some twenty Ivorian and Burkinabe journalists supported
Nineteen journalists have already been supported by the Verifox project (12 in Burkina Faso, 7 in Côte d'Ivoire). The app will help them to improve their fact-checking practices in their newsrooms by the time the next training sessions are held this year. It will also be offered to Beninese journalists trained this year, as well as to Senegalese, Cameroonian and Central African journalists who are beneficiaries of the project.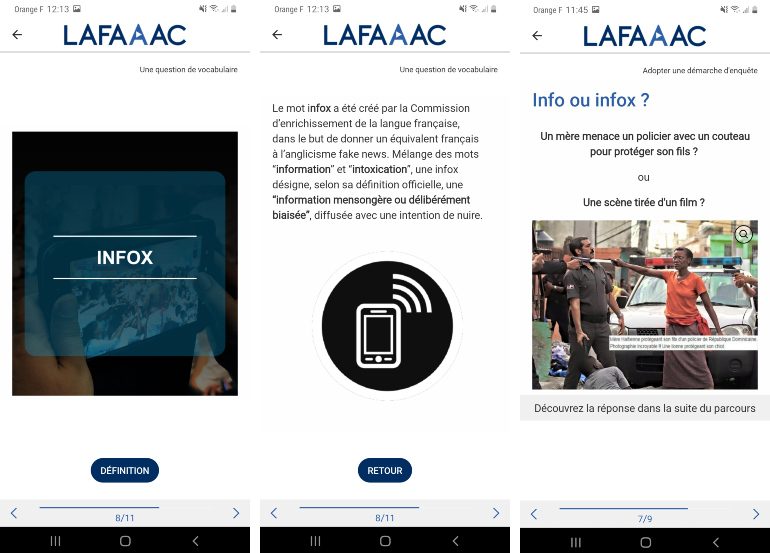 ---
* LAFAAC (the Franco-Anglophone Academy of Visual Arts and Cinema) is a digital platform that offers training for jobs in the creative industries/p>