MédiaSahel: a review of what has been achieved
Launched at the start of 2019, MédiaSahel focuses its efforts on the inclusion of young people and on the stabilisation and development of democracy in Burkina Faso, Mali and Niger. We reflect on this two-year project devoted to strengthening the skills of radio journalists and creating a space where young people can express themselves freely.
When the project launched, 73 radio stations were selected in Burkina Faso (24), Mali (25) and Niger (24) for the "skill-building" component, and 20 trainers were selected to provide the training.
Between 2020 and 2021, 54 training sessions, 18 per topic, were held in the three countries involved in the project.
In 2020, 146 journalists from 73 partner radio stations enhanced their basic knowledge of the craft. In the radio interactivity training sessions, 216 journalists and technical staff improved their skills to produce higher quality content, and the participating young people were invited to interact and join in. Training sessions were held on gender- and conflict-sensitive journalism, helping 146 journalists and media managers to better understand concepts surrounding conflict and gender, so these could be considered when scheduling programmes and covering certain subjects.
In the near future, training sessions focused on hosting public discussion shows will be built into the training cycles specially designed for radio stations.
In addition to journalistic skill-building, 30 media managers (10 from each country) received radio management support, helping them to look at the viability of their organisation and their financial and business management.
Supporting the production of formats created for and by young people
MédiaSahel continued to encourage young people to engage with citizenship with the broadcast of RFI's magazine programme "Alors on dit quoi ?" [So, what do you think?], the "Jeunes Wakat" show by Burkina Faso's National Union of Free Audiovisual Media Outlets (UNALFA), and online media programmes supported since 2021. As such, there are three projects being supported in the production of formats specially aimed at young people. Inspired by the programme Pas2Quartier and supported by a France 24 journalist, videos have been broadcast since August 2021 on the social media pages of three online media companies: DoniBlog, Etrane TV and Toute Info.
These activities were led in conjunction with a group of 75 young men and women, around 25 from each country, who were the "flagbearers" of the project within their communities and were fully involved in 2021.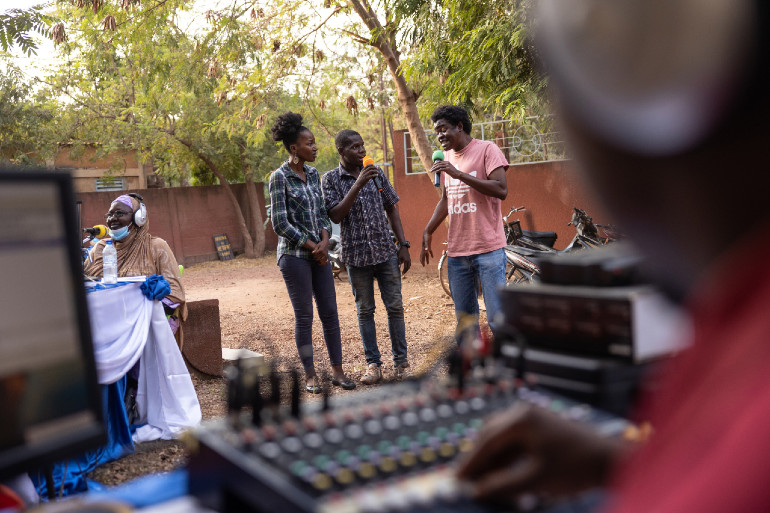 With the radio series "Dianké", which has been translated into three languages, this group of young people received training on how to lead citizen debates. In over 20 municipalities in Burkina Faso, Mali and Niger, tea debates and cultural entertainment were organised throughout July and August 2021 on some of the key themes of the series: youth citizen participation, the role of women, corruption etc.
These young people were also part of the assessment process of programmes designed for their demographic, which involved listening committees being set up. Their assessments and recommendations were taken into consideration by media managers to ensure that the proposed programmes deal with the issues that young people are concerned about.
In 2022, the project is expected to expand its initiatives for young people and the media by backing youth-led initiatives and strengthening its support for the production of content specifically designed for them.