Hala Kodmani
November 16, 2021
The French-Syrian journalist, Hala Kodmani, specialises in covering the Arab uprisings, especially the Syrian revolution. She has worked for the French daily paper Libération, the weekly news magazine L'Express and other French media outlets since 2011.
At the start of the Syrian uprising in 2015, she travelled all over Syria, visiting places like Damascus, Aleppo and Raqqa. In 2016, she was recruited as an official correspondent for Libération to cover the whole of the Middle East. She tells us how Syrian media has changed in the past decade.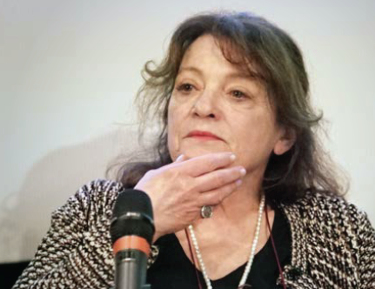 What was the media scene like at the start of the Syrian revolution?
The first attempts at journalistic expression began in 2011. Right from the start of the demonstrations, the war became a media battle too, as the regime denied the existence of rallies and accused demonstrators of being terrorists. Young people wanted to speak out about what they were experiencing and shot video footage on their mobile phones to show these uprisings. They were the first representatives in the Arab and international media to report on the beginnings of the Syrian uprising. It was highly spontaneous and localised as it was not possible to broadcast far and wide.
The aim was to give practical information, for example about the location of the law enforcement officers. The first newspapers came into being among small groups of militants, such as Enab Baladi in Daraya in the Ghouta region. To start with, it was really just a "rag", photocopied and distributed underground. Then there was social media. Facebook pages not only connected people with one another, they were also a great source of news, with videos, photos and commentary. Some 30 media projects first took shape on Facebook.
How would you describe the role of journalists, and citizen reporters in particular, in these last ten years?
Their role has obviously changed a lot. At the start, they did not see themselves as citizen reporters. This is a label they subsequently acquired. They were militants and rebels, doing this because it was a way of promoting their cause and making their voices heard. They gradually adopted a more professional approach, thanks especially to international organisations, which, from 2012 onwards, tried to help shape this completely spontaneous form of expression through the media.
What have you observed regarding the changing role of female journalists in Syria?
There was a really striking imbalance in this respect during the early years of the uprising. What few women there were, whether militants, journalists or citizen reporters, remained very discreet and unobtrusive. They were much more fearful, not just politically, but also because of society. This blatant imbalance still persists, but much progress has been made in recent years. There has been a real growth in awareness. Syrian women have begun playing far more active roles in the media and elsewhere in civil society.

What is your assessment of this decade for the Syrian media?
For a while in 2012-2013, there was a lot of development and structuring of media outlets, partly fuelled by international development organisations making huge investments in this sector. The number of media outlets, publications and radio stations grew considerably through to 2014-2015 and then, as Syria got bogged down in war, they gradually lost influence, while support from organisations also dwindled.
What do you remember most about your experience in the Syrian media incubator scheme?
This project was a really great opportunity for the small media scene taking shape in Syria at the time, and for those young people who were putting out footage, photos and text. For the first time, a structure in a Turkish town was entirely dedicated to the Syrian militants, activists and reporters based there. This place was a landmark for those journalists and for those returning to or leaving Syria. CFI and the Danish cooperation organisation IMS (International Media Support), set up an entire training programme there. The young Syrian journalists I was able to train often came from the heartland or from Aleppo and I have remained in contact with them.
They still reach out to me from time to time, suggesting topics or asking me for help.
---
Through the testimonies, portraits of journalists and the human adventures of our series Aswat Jadida ("New Voices", in Arabic), discover ten years of support for media development in the Arab world.