Far from the capital, Radio Nefzawa is the mouthpiece for southern Tunisia
November 16, 2021
In the aftermath of the Tunisian revolution, citizens of the Kebili region, in southwestern Tunisia, demanded the creation of a regional radio station to make their voices heard. And so, 2012 saw the birth of Radio Nefzawa.
The idea of creating a regional community radio station was originally a mere course project, led by its founder, Fahmi Blidaoui.. Run by a team of volunteers with just one computer and one mic at the start, this media outlet began by broadcasting online. "We wanted to demonstrate to ministries and national journalists that this disadvantaged region needs help, in both political and media terms," explained Blidaoui.
The small radio station was given an opportunity to participate in CFI's Shabab up Radio ! project. Its aim was to foster professionalism in radio stations in the aftermath of the Arab Spring uprisings, as well as encouraging youth participation. The station has thus benefited from customised support to develop its content, refine its marketing approach and ensure its economic viability.
Radio Nefzawa endeavours to give local people the opportunity to speak out, and takes an interest in all their day-to-day concerns, whilst trying to promote the role of women and young people. Its team also puts a lot of effort into monitoring regional investment projects.
In order to develop its economic model, the radio station has held several events, including forums on media and development at Kebili and the launch of World Radio Day for the first time in Tunisia. It helps promote radio stations acting as the mouthpiece for southern Tunisia and in changing stereotypes about young people.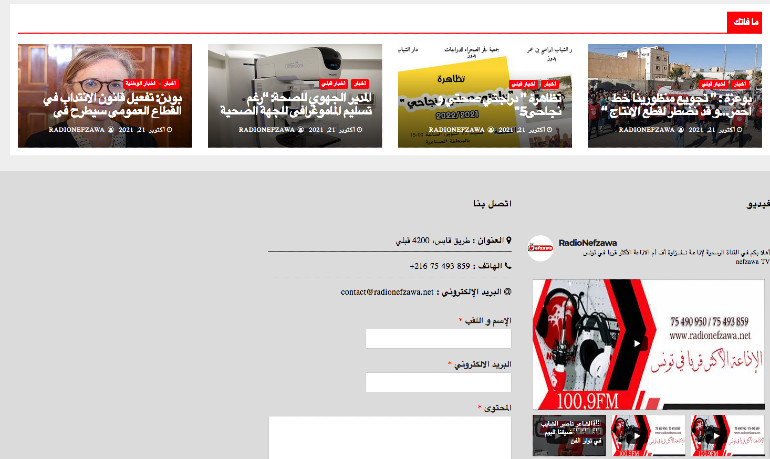 We're a community radio station but we've almost done a better job than private radio stations when it comes to local content.
To ensure its long-term success, the media outlet is now also developing its own brand to support artisanal know-how in the region, in particular the crafting of raffia baskets, and soon the wellreputed dates from Kebili.
---
Through the testimonies, portraits of journalists and the human adventures of our series Aswat Jadida ("New Voices", in Arabic), discover ten years of support for media development in the Arab world.