Discussing fake news at the Night of Ideas in Ouagadougou
February 8, 2021
The 6th edition of the Night of Ideas, which was held on the evening of 28 January 2021 in Ouagadougou (Burkina Faso) addressed new forms of solidarity and new collective bonds via digital technology and deciphered the phenomenon of "fake news", which is particularly prevalent on social media.
This event, organised by the Institut Français and the French Research Institute for Development (IRD), with the support of CFI and the pan-African fact-checking organisation, Africa Check – provided a platform for journalists and experts specialising in fake news who are fighting to promote verified and reliable news in Burkina Faso and Africa as a whole. Around sixty people were involved in a two-hour discussion on this topic.
The discussions were hosted by Amélie Gué, a journalist from Burkina Faso who promotes AmiNet on BF1 – a programme focusing on social networks and technological innovations – and Cheick Omar Ouedraogo, head of the digital incubator company, Jokkolabs in Burkina Faso, and social network devotee.
Valdez Onanina was the special guest on the panel. A Senegalese journalist and teacher of journalistic techniques, he specialises in fact checking, a discipline that consists of verifying the accuracy of information (figures, images, videos) shared in the media and on social networks and correcting it where necessary. He is the coordinator of a digital research programme at Africa Check, a pan-African organisation dedicated to combating fake news by means of fact checking. He is also a commentator for several broadcasts on RFI (Alors on dit quoi ? and Les Dessous de l'infox), where he presents all of the fake news uncovered by Africa Check.
As the majority of the guests were not journalists, some were discovering the concept of fake news for the first time. They have been made aware of the extent of this phenomenon and how dangerous it is, primarily via discussions rather than a more lecture-based approach.
"Our aim is to make as many people as possible aware of the problem of fake news, which is becoming increasingly dangerous. The audience interacted very well. I was surprised by how well received the questions were. People were quite curious.
I think we can consider the evening a success!"
Valdez Onanina
Awareness-raising workshops for pupils
Thanks to the way in which the three speakers complemented one another, it was possible to explain the ways in which fake news appears at the African level, as well as within the media and on social networks in Burkina Faso. They illustrated the concept of fake news in Burkina Faso and explained the measures put in place by the High Authority for Audiovisual Communication. The fact that fake news appears ordinary is a significant factor in how dangerous it is. The dialogue between the experts and the guests therefore enabled many of them to become fully aware of this phenomenon, which all too often preys upon the gullibility of internet users.
The speakers made use of different techniques for creating fake news, illustrated by specific examples, to demonstrate the extent to which it now forms part of the ordinary media and social media landscape. Amélie Gué then showed an example of a deep fake video, a technique that consists of synthesising audio and video files so that they replace the words spoken by a person with others in such a way that it is difficult to tell.
"What I think we have managed to put across is that not everything you see on social media is true. We conveyed the idea that you shouldn't share information if you don't know where it has come from, which is a good starting point!"
Valdez Onanina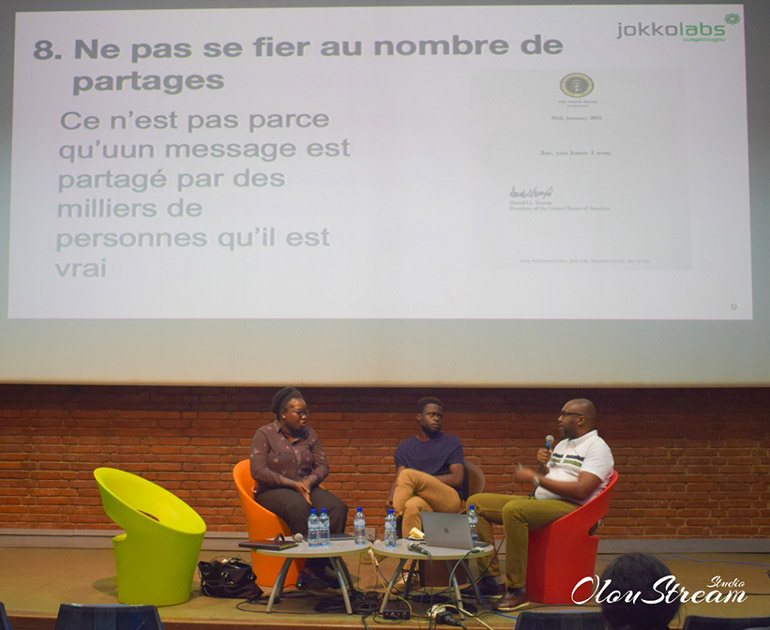 Following on from this event, awareness-raising workshops for pupils and students, focusing on social media, will be organised throughout the week by the Institut Français. Amélie Gué and Cheick Omar Ouedraogo will speak to young people to teach them good practices when using social media: how to manage personal data, what image rights are and the purpose they serve, how to detect fake news and avoid spreading it, etc.
A video of the evening can be found on the Institut Français Facebook page.