CSOs on the air: it's time to tackle the personal
The programme, Jeunes Wakat, is aiming to give women a platform in Burkina Faso. The production team relies on the input of civil society organisations (CSOs) working alongside women to choose topics that they can relate to and to meet their expectations more effectively.
Close to 100 topics were identified during the second dialogue workshop between Burkina Faso's national union of free audiovisual media outlets (UNALFA) and CSOs held in Ouagadougou on 16 and 17 February 2023. These topics included the expression of female desires, mental health, infertility, inherited emotional baggage, conflict-related trauma and a renewed sense of patriotism associated with insecurity.
The meeting had two aims — to review the first six months of production work on Jeunes Wakat pour elles, a programme produced within the framework of MediaSahel for Women, and to also identify new topics to be incorporated into programmes by the UNALFA team.
"The CSO representatives went all in on this", explains Clémence Tuina, a CFI trainer who coordinated the meeting. "They have opted for personal, intimate subjects", she says, with a hint of amazement. "These are real issues that radio programmes just aren't covering. But people want to know more about this sort of thing."
UNALFA President, Jean-Baptiste Sawadogo, chimes in — "It's a true reflection of what people are really going through". Iriméyan Ouédraogo, a young leader for the Together for Burkina CSO, acknowledges that "when you open up to people you don't know, you realise we all share the same concerns".
A tricky gamble
It wasn't a sure bet though. "The idea that it is not necessarily easy for journalists to identify topics and angles isn't something I really believed", admits Jean-Baptiste Sawadogo.
On the eve of the meeting, the first focus groups reviewed the six months of production work that followed the launch of MediaSahel for Women. The CSO representatives generally pointed out the quality of the programmes and the diversity of the issues covered. However, the need to consider how the concerns of urban and rural populations differ was something the representatives were keen to highlight. People in towns and cities would be more interested in hearing about the involvement and status of women in political life or the evolution of female leadership, while people in rural areas would be more interested in hearing about issues related to public service access, health and family welfare.
"We need to take these concerns into account", insists Jean-Baptiste Sawadogo. "We believe it is important to produce programmes that will interest our listeners."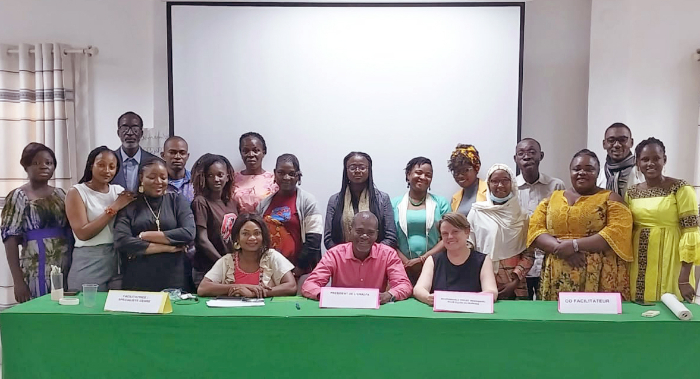 One step still remains: there need to be more women on the air and they must dare to speak up. Fatima Ouilma, the President of REPSFECO (the Peace and Security Network for Women in the ECOWAS region), responded positively to receiving an invitation from the programme, Jeunes Wakat pour Elles.
"It was a privilege. A partnership where everyone wins. It was an opportunity to promote my organisation while helping the production of the programme", she explains. "It was also an opportunity for me, as an everyday citizen, to express my opinion on what is going on in my country. It's not everyday that you have the chance to be heard. This is our contribution to politics, so it's no time to be shy!"
An agreement is likely to be drawn up between UNALFA and the CSOs in the next few months. This should allow for a partnership to be formalised, which can only improve the status of women in the media and therefore public life.