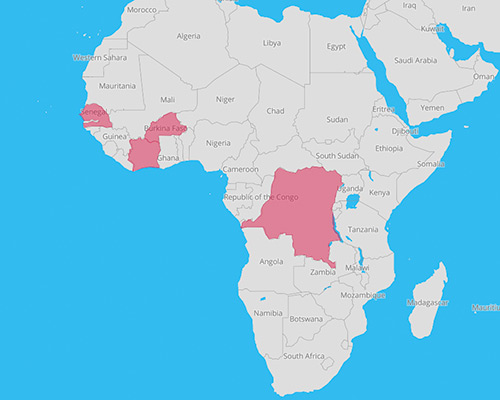 Goals
Identify and support French-speaking African talent in the fields of scriptwriting, production, acting and directing of televised series and documentaries through calls for applications and training cycles.
Presentation
Between 2015 and 2017, Writing and producing in Africa supported six series projects in partnership with Canal+ Africa and Lagardère Studios.
Twenty initiatives (scriptwriting, production management, directing, directing assistance and acting coaching) provided training for 50 people, 35 of which were selected to integrate the production teams.
Two of the series supported are currently being broadcast on Canal+ Africa and TV5 Africa and two others are in filming or post production for broadcasting on Canal+ Africa in the next few months.
Launched in May 2018, the second part of Writing and producing in Africa is now aimed at identifying and supporting young talent in French-speaking Africa in writing and directing several episodes of drama series or documentaries, in partnership with the groups Lagardère Studios (Keewu Productions), Canal+ Africa and Tetra Média Studio (On est ensemble productions).
These training programmes have created a pool of writers, directors and production managers who can be entrusted with writing episodes for series that are in development as well as with directing and production management. Writing and producing in Africa is now perceived in Africa as a discoverer of new talent and a guarantee of professional quality.
Project beneficiaries
Directors
Writers / scriptwriters
Production managers
French-speaking actors
Actions
TV series on youth (26 x 26 min.)
Selection of candidates
Launch of a call for applications in sub-Saharan Africa and selection of five beneficiary writers/scriptwriters.
Writing training
The five scriptwriters participate in several one-week workshops: construction of narrative arches and synopses, sequencing, dialogue continuity and refinement of the episodes of the series.
Related news
Stigma: new African edutainment series
November 2, 2018
Ten episodes of this series, which focuses on stigma towards people with addictions, are currently being filmed.
Felana Carol Rajaonarivelo: dreams and fireflies in the night
November 15, 2021
Felana Carol Rajaonarivelo, 32, is one of just a few female photographer-videographers in Madagascar. The cheerful founder of "Fireflies", with...
TV series "Sacko et Manganne" (12 x 52 min.)
Writing training workshop
Project launched in 2017 in the scope of "Writing and producing / Script Talents".
Four workshops allowed the first six episodes of the series to be written by two of the writers selected in the first call for applications. Creation of a pool of three new writers to write six new episodes.
Documentary series "L'Afrique au féminin" (6 x 13 min.)
Documentary writing workshop
For writing and directing seven 13-minute magazine reports on the subject of women's place in African society.
Related news
Last meeting for l'Afrique au féminin project
December 19, 2018
The seven directors working on the l'Afrique au féminin [Women of Africa] project travelled from Mali, Senegal, Ivory Coast, Guinea, Cameroon...
Special programme: "Exceptional Women" in Africa
October 31, 2019
A first training workshop on preparing the various film shoots for the special programme "Enquête d'Afrique: Femmes d'exception" (Africa...
Eight portraits of "exceptional women"
March 5, 2020
The journalists taking part in the 3rd edition of Afrique au féminin have produced eight reports for a special programme entitled Enquête d...
Writing workshops for TV series projects of 52 minutes
One-week training workshops on scriptwriting.
Related news
In Kinshasa and Ouagadougou, scriptwriters work on the next African series
April 24, 2019
Following the success of the Invisibles and Sahko et Mangane television series on Canal +, which were created with support from CFI in the form...
Writing and producing in Africa 2, results 2019
January 14, 2020
In 2019, CFI provided support for the production of several projects for African television series in the areas of writing, coaching actors...
"Cacao" (Cocoa), a new series broadcast on Canal+ Afrique in June
June 17, 2020
CFI, in partnership with African producers and Canal+, is continuing its commitment to help develop quality television series. Following the...