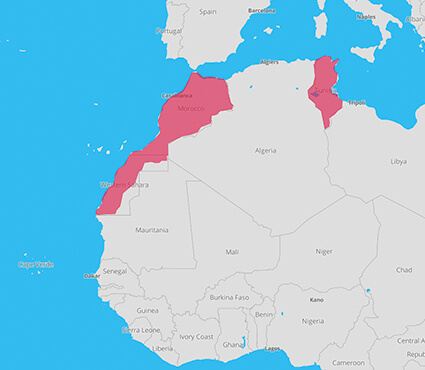 Goals
To supplement existing courses with a range of technical training modules
To support the development of professional skills in entry-level training
To advise schools and colleges as regards updating the courses they offer
Presentation
Following the wave of protests of the Arab Spring, freedom of speech is finding new voice through young people in a number of North African countries. To support this change and echo this freedom of expression in the media, the Shabab Up ! School project is dedicated to basic training for journalists.
At the heart of the system, journalism schools offer basic training founded on a democratic approach to deliver a structured, objective analysis of information.
This component offers support for the development of the curricula of journalism schools.
The Shabab Up project also includes a component for radio stations.
Verbatim
"It has been an invaluable experience. From information collection to verification, with the opportunity to discover and master new tools and techniques which are rarely or never used by Tunisian professionals. These three weeks have allowed us to catch up on multimedia practices."
Actions
Updating of courses
Work sessions organised between heads of teaching and professionals to look at and propose changes to curricula, with the introduction of practical modules and improvement of the skills and knowledge of the teachers and students involved.

Regional seminars to bring schools and colleges together around the project
Mini-seminars to determine training activities and identify beneficiaries
Training for teaching staff to update and improve their multimedia skills and knowledge
Training in multimedia production and the use of online tools
Related news
Shabab up! School project holds its 2nd seminar in Tunis
October 23, 2014
How should journalism colleges develop to keep in step with new professional practices and to offer the Tunisian and Moroccan media young...
Shabab up! School project: 2nd multimedia workshop held in Tunisia
March 16, 2015
A 2 nd multimedia production workshop will be held between 9 and 19 March 2015 in the Kerkennah Islands, a chain of islands in the Mediterranean...
Hamida El Bour: Striving for high-quality journalism in Tunisia
November 16, 2021
Hamida El Bour is a graduate of the Institute of Press and Information Sciences (IPSI) in Tunis and has been Head of this same school since 2017...
Support for on-the-job experience
Development and strengthening of a media centre and multimedia newsroom at IPSI and an online radio school at ISIC.

Setting up of technical training modules
Supplement existing courses with technical training modules: organisation of 6 master classes for all teachers and students of the schools

Related news
Call for applicants Training cycle Proximity journalism
July 24, 2015
The African Centre for the Training of Journalists and Communicators (CAPJC) and CFI, the French Media Co operation Agency, are organising in...