Tatiana Kozak – Supporting judicial reforms in Ukraine
May 10, 2021
Tatiana Kozak has been an independent journalist in Ukraine for ten years. She primarily covers transitional justice and human rights issues in the former Soviet territories: the fruit of a long journey in support of justice.
Tatiana Kozak hasn't always been a journalist. Having started her career as an English and German interpreter, she began writing and journalism in 2010, when blogs and online media were still in their infancy. She started out as a blogger and editorial secretary at korrespondent.net, which at the time was a leading online media outlet in Ukraine.
However, more than anything else, it was the 2014 Ukrainian revolution, also known as the Euromaidan, that marked her entry into the world of journalism. When her former media outlet was bought by an oligarch, Tatiana joined the team at hromadske, a new-generation online television channel created by the journalists themselves and financed by public funds from various European countries.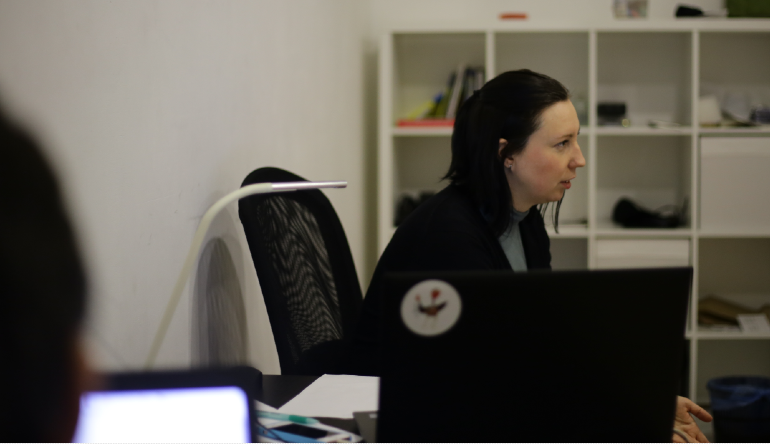 Ukrainian revolution and journalistic baptism of fire
"The Euromaidan led me to cover the war in Donbass, which gave my journalistic career a huge boost", explains Kozak. Based on the front line, she reported on the situation of the displaced populations for several local and international media outlets. "Back then, it was not difficult to get to the front line," she recalls. "Now there is a lot of bureaucracy, and anyone wanting to go there needs to obtain a special press pass."
This was an experience that showed her the inner workings of field journalism in conflict zones. "... is that most Ukrainian media outlets are owned by oligarchs."
Since then, she has worked for various local and international media outlets (BBC Ukraine, Radio Svoboda, OpenDemocracy, Hromadske, Ukrainska Pravda, Buzzfeed, Transitions Online, etc.), and she also participates in independent projects for which she has managed to secure funding from participatory funding campaigns, such as Unrecognized Stories: an investigation that followed people living within unrecognised self-proclaimed states within post-Soviet countries.
An adventure that would take her to Georgia, Moldova and Azerbaijan.
For Tatiana Kozak, retaining her journalistic independence is paramount. In order to do so, she successfully sources funding for her projects from international organisations and through more lucrative jobs, such as translation. "The problem nowadays is that most Ukrainian media outlets are owned by oligarchs", she complains. "The former president [editor's note: Petro Porochenko, in power from 2014 to 2019] had one during his presidency, as does everyone else in positions of power. This problem is directly linked to the difficulty faced by media outlets in finding autonomous economic models. These days, if a media outlet wishes to remain independent, it must either receive grants from Western organisations or rely upon participatory funding. Some survive on advertising, but that is very rare", she explains.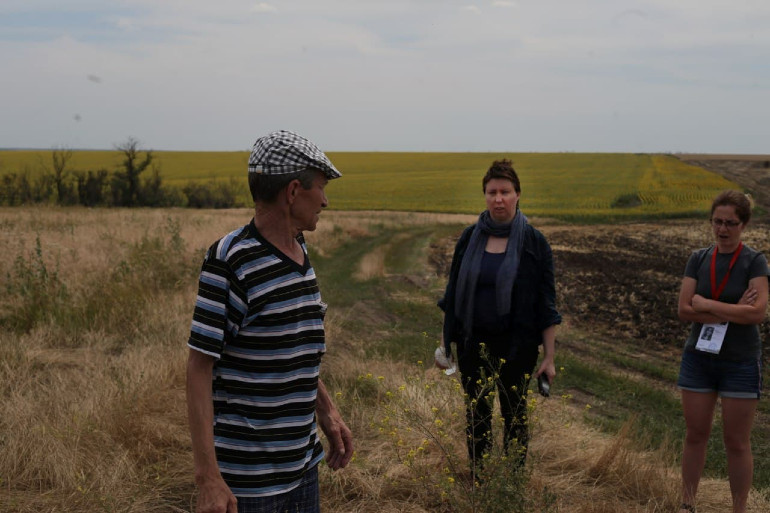 Transitional justice and human rights
Kozak is now a contributor to openDemocracy, owhere she covers women's rights and the rights of LGBT (lesbian, gay, bisexual and transgender) people. She is also a member of the editorial team at Graty, a new media outlet specialising in court reporting, for which she covers cases relating to human rights and transitional justice.
In order to deepen her knowledge and support judicial reform in her country, in 2019 she joined the Pravo Justice programme, which supports judicial sector reform and receives financial support from several international donors, in partnership with CFI. This was a rewarding time for the young journalist, as she explains: "I was already familiar with the judicial system, but Pravo Justice allowed me to deepen my knowledge by meeting leading journalists, lawyers, judges and prosecutors."
Following this training, she published an investigation into a case between Ukrainian LGBT organisations and the national government, as well as background work on the court case (which is still ongoing) regarding the referendum organised by pro-Russian separatists in 2013 in the Donetsk and Luhansk regions, a vote that was not recognised by Ukraine and that led to the secession of part of the Donbass territories and the deadly conflict that has been raging in eastern Ukraine since 2013.
It provides her with a means of documenting the history of her country and building its future.